JCEL Business: Colonial Fire Apparatus Opens Office
(Posted May 6, 2013)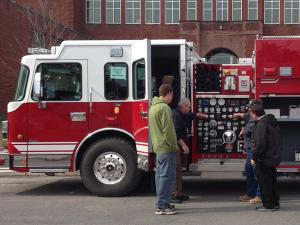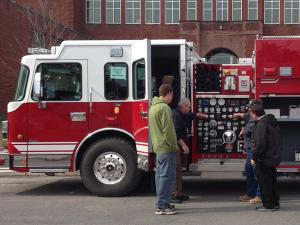 HUNTINGDON, Pa. -- Colonial Fire Apparatus, a western Pennsylvania distributor for Smeal Fire Apparatus, of Snyder, Neb., has opened a regional office servicing 33 counties in western Pennsylvania in the Juniata College Sill Business Incubator in Huntingdon, Pa.

There will be a ribbon-cutting ceremony to open the business at 11 a.m., Tuesday, May 14 at the JCEL site, with an open house to follow at Colonial Fire's office until 2 p.m.

"Huntingdon County is centrally located for the area we cover and JCEL offers services for our business, such as conference room capability," says David Grace, sales manager for the business and a resident of Three Springs, Pa. in Huntingdon County.

Colonial Fire Apparatus will provide sales and product support for fully designed and outfitted fire apparatus (fire apparatus is an all-encompassing term describing custom designed fire trucks and other firefighting equipment) manufactured by Smeal Fire Apparatus, a nationally known fire apparatus manufacturer since 1964. Grace, who has been chief of Three Springs Fire Department since 1993, will have a customer base of about 1,300 fire departments or municipalities within the distributorship.
"We are extremely happy to be home to Colonial Fire Apparatus," says Terry Anderson assistant professor of entrepreneurship and director of JCEL. "We recognize the importance of locating in the right space, particularly at startup, and we're looking forward to working with Dave to help him grow the business"

Smeal Fire Apparatus offers a wide variety of customized fire apparatus, from a basic commercial "pumper," that costs approximately $275,000, to a tractor-driven aerial or platform that can exceed $1.1 million.

"Huntingdon County is centrally located for the area we cover and JCEL offers services for our business, such as conference room capability."

Dave Grace, sales manager, Colonial Fire Apparatus

Grace will use Colonial Fire Apparatus' SBI office as an administrative center several days per week while traveling for sales and service calls throughout western Pennsylvania. "With Dave's unpredictable schedule, and with his need for dedicated work space, office support, and meeting space, he is an ideal client for the Sill Incubator," explains Kristie Putt, assistant director for JCEL's Sill Business Incubator.
By May, Grace will have a demonstration model for his use to show prospective clients. The fire truck will not be housed at the incubator, but Grace underlines the need to have an actual fire apparatus to show clients when he makes a sales call.

"Selling a fire truck is visual and physical," he explains. "The fire department needs to look at workmanship, quality, features and functionality. These are all critical aspects of a fire truck and a department needs to see the product in person rather than looking at a sales brochure."

Grace has worked as an apparatus sales consultant since 2003 and has worked as a volunteer fireman or emergency medical technician for most of his working career. Before he became interested in fire apparatus sales, Grace was a retail technology service manager for Fleming Companies from 1975 to 2001 and worked as a grocery technology consultant at Microlab Technologies from 2001 to 2003.

He is a past president of the Huntingdon County Fire Chiefs Association.

Smeal Fire Apparatus is a family-owned company built by Donald Smeal after the Snyder, Neb. volunteer fire department asked the then-local welder if he could repair a hole in the tank of its fire truck. Instead he offered to design and build a new fire truck with an innovative design that included an enclosed crew area, an aerial ladder and 1,250 gallons of water. The company produces 200 fire apparatus per year and has 26 dealers across the country.

Contact April Feagley at feaglea@juniata.edu or (814) 641-3131 for more information.