Juniata Honors Four Faculty with Teaching, Service Awards
(Posted May 8, 2013)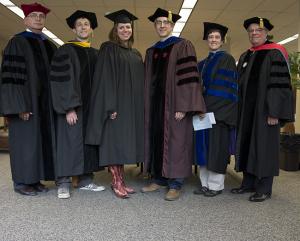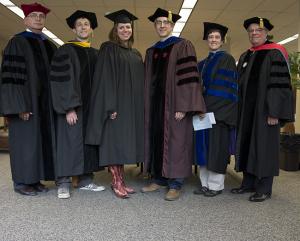 HUNTINGDON, Pa. -- Four Juniata College faculty members were honored Tuesday, May 7, with distinguished teaching and service awards during the College's Spring Awards Convocation in Rosenberger Auditorium in the Halbritter Center for the Performing Arts. Honored for their work were John Bukowski, professor of mathematics; Belle Tuten, Long Professor of History; Bethany Benson, assistant professor of art; and Matt Powell, assistant professor of geology.

The convocation was held in Rosenberger Auditorium in the Halbritter Center for the Performing Arts. The convocation address was given by Michael Henderson, associate professor of French

John Bukowski, a Huntingdon, Pa. resident, was honored with the 24th annual Beachley Award for Distinguished Academic Service, and Belle Tuten, a Huntingdon, Pa. resident, was named the 46th recipient of the Beachley Award for Distinguished Teaching. Bethany Benson, a James Creek, Pa. resident, and Matt Powell, a Huntingdon, resident, received the Henry and Joan Gibbel Award for Distinguished Teaching (for faculty members with fewer than six years of service).

Nominations for the awards are received from students, faculty, administrative personnel, alumni and trustees. The college president, the provost, the student government president, and the three most recent recipients of the award make the final selections.

The last three Distinguished Teaching Award recipients were James Borgardt, professor of physics (2012), Emil Nagengast, professor of politics (2011); and Michael Boyle, von Liebig Chair in Biomedical Science (2010). The first was presented in 1989 to the late Mary Ruth Linton, professor emerita of music. Last year's academic service award recipient was Michael Henderson, associate professor of French. The recipient of the 2012 Gibbel Award for Distinguished Performance was Daniel Welliver, associate professor of sociology.

John Bukowski, a Huntingdon resident, came to Juniata in 1997 after earning a master's degree in 1992 and a doctorate in 1997 in applied mathematics from Brown University. He earned a bachelor's degree in both mathematics and physics in 1991 from Carnegie Mellon University.

"John has been one of Juniata's most service-oriented faculty, with teaching, advising, committee work and volunteering to play music. He is one of the faculty's most accomplished musicians, and also plays solo at commencement," said Thomas R. Kepple, Juniata's president.

He was named Juniata's Faculty Member of the Year in 2003 and received honorable mention for the President's Award for Excellence in Teaching from Brown University in 1996. He was promoted to associate professor in 2003 and serves as chair of the mathematics department.

Bukowski is governor of the Allegheny Mountain section of the Mathematical Association of America and serves on the association's national board of governors. In addition, he is secretary/treasurer of the association's Special Interest Group on Quantitative Literacy.

In 1998-99, he was a fellow of Project NExT, a national program sponsored by the Mathematical Association of America for new faculty interested in improving the teaching and learning of undergraduate mathematics. He continues to be active in the regional version of this project.

His research interests focus on the history of mathematics in the 17th and 18th centuries. He has published articles on the Dutch mathematician Christiaan Huygens and spent several weeks in the Netherlands at the University of Leiden and the University of Utrecht researching Huygens' work.

He is a member of the American Mathematical Society, the Mathematical Association of America, and the Association for Women in Mathematics.

Bukowski remains active in the community through his love of music. He serves as pianist for the Juniata College Catholic Community and Most Holy Trinity Catholic Church in Huntingdon. He sings with the Choral Union and Chamber Choir at Juniata, and he plays cello in the college's String Ensemble.

Belle Tuten, a Huntingdon resident, joined the Juniata faculty in 1997 as a specialist in medieval European history. Her historical interests center on medieval culture and history (300-1500 A.D.) and early modern social history, particularly on the history of women and family. She has taught courses on Western European history, the history of Islam, medieval films, the history of women in medieval Europe and the history of God.

"Belle Tuten is one of Juniata's best advisers and a teacher who can make events that happened centuries ago seem fascinating to 21st century students," Kepple said, "She is dedicated to Juniata, most recently by serving on the presidential search committee."
She earned a bachelor's degree in history in 1991 from the College of Charleston. She went on to earn a master's degree in 1994 and a doctoral degree in 1997, both in history from Emory University.

At Juniata, Tuten received the 2001 Beachley Award for Distinguished Academic Service and was named the 1999 Juniata May Day Faculty Woman of the Year. She was named the W. Newton and Hazel A. Long Professor of history in 2003 and was promoted to associate professor the same year. She was promoted to full professor in 2009.

She has published articles in such professional journals as "French Historical Studies" "Medieval Perspectives" and "Conflict in Medieval Europe." In 2004, she collaborated with professors from Furman University and Hobart and William Smith Colleges to teach an interactive online course on the principles of Islam, sponsored by the National Institute for Technology and Liberal Education.

She recently presented a paper on medieval hygiene at the 2012 International Medieval Colloquium at the University of Leeds, and has presented papers to the Southeastern Medieval Association and to the International Colloquium on Medieval Studies.

Bethany Benson joined the Juniata College faculty in 2007 as assistant professor of art after working at Southern Illinois University in Carbondale, Ill. She earned a bachelor's degree in fine arts in 2000 from the University of Massachusetts, Dartmouth, in Dartmouth, Mass. She went on to study at Bowling Green State University in Bowling Green, Ohio and earned a master's degree in fine arts in 2007 from Southern Illinois University.
"Bethany has shaped her time at Juniata with an eye for beauty, innovation and detail and has been deeply involved in the expansion of the art department," said Kepple. "She has been instrumental in relocating her program to new digs at JCEL. Her program's new location is apt because she has been a JCEL Coleman Fellow and has worked entrepreneurial principles into her introductory courses."

She has exhibited her work at various galleries and museums around the country, and she has work in the permanent collections of the University of Arkansas and the Jingdezhen Ceramic Institute in Jingdezhen, China. She also has had a solo show, "Intimate Interactions," at the Juniata College Museum of Art

At Southern Illinois, she taught the advanced ceramics course from 2004 to 2007 and taught the introductory "Foundations" course in ceramics for the 2006-2007 academic year. She also served as a teaching assistant for the university's visual culture course.

In addition, Benson worked as a book conservation assistant in Morris Library at Southern Illinois from 2005 to 2006 and also worked as a studio technician at Southern Illinois in the ceramics studio from 2004 to 2005.

Benson also has worked as a resident artist for several companies. She started her art career in 2001 as resident artist at the Watershed Center for the Ceramic Arts in Newcastle, Maine.
Matthew Powell came to Juniata College in 2007 as an assistant professor of geology. Previously, he worked as a Humboldt Postdoctoral Fellow at the Alexander von Humboldt Foundation at Johann Wolfgang Goethe University in Frankfurt, Germany from 2006 to 2007.
"His bedrock work is focused on paleontology and his research has concentrated on finding geographic patterns of macroevolution in the fossil record," said Kepple.
Powell is considered a paleontologist and his research has concentrated on finding geographic patterns of macroevolution in the fossil record. He also is interested in studying how these patterns of evolution relate to climate.

Powell earned a bachelor's degree in biology in 1998 from Virginia Polytechnic Institute and State University in Blacksburg, Va. and went on to earn a master's degree at Virginia Tech in geological sciences in 2000. He earned a doctoral degree in earth and planetary sciences in 2005 from The Johns Hopkins University in Baltimore, Md.

Before pursuing graduate studies, Powell worked as a research assistant in 1998 at the Virginia-Maryland Regional College of Veterinary Medicine. From 2005 to 2006, he was a visiting assistant professor of geology at Washington and Lee University in Lexington, Va.

He has taught a variety of courses, including general Sedimentology, Historical Geology, Global Climate Change and Invertebrate Paleobiology and Paleoecology. He has taught graduate lab courses in earth systems history, paleontology and historical geology. As a researcher, Powell is interested in looking at the invertebrate fossil record to see biogeographic patterns of evolution. His specific area of expertise centers on the effects the late Paleozoic Ice Age had on the ecology and evolution of brachiopods.

He has had his research published in a variety of professional journals, including the Journal of Geology, Global Ecology and Biogeography, Geology, Paleobiology and the journal Palaeogeography, Palaeoclimatology, Palaeoecology.

He is a member of a number of professional organizations, including the Geological Society of America, the Paleontological Society, the International Biogeography Society and the American Geophysical Union.
Contact April Feagley at feaglea@juniata.edu or (814) 641-3131 for more information.