Healthy Cupcakes: Juniata Student Wins JCEL Business Plan Competition
(Posted May 13, 2013)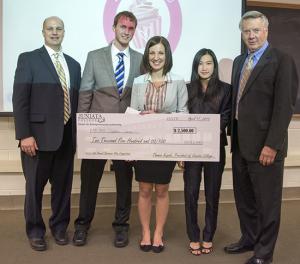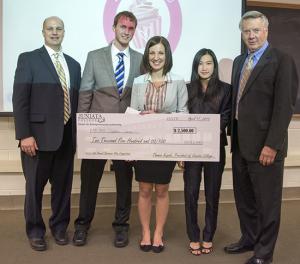 Stephanie Scavone, a junior at Juniata College studying business from Wapwallopen, Pa., received first prize in the Juniata College Center for Entrepreneurial Leadership and a $2,500 grant to start her own business at Juniata's Sill Business Incubator, plus a $100 gift card as winner of the Viewers Choice Award for her business idea, For Goodness Cakes.

Scavone's idea is a cupcake business offering gluten-free, dairy-free, vegan and healthy cupcakes designed to grow into a food truck delivery plan, followed by a storefront location. "For Goodness Cakes will enable people with allergies to many ingredients commonly found in the average cupcake to indulge in a cupcake that will not harm them," says Scavone. "The cupcakes will all be homemade, delicious, and made as environmentally friendly as possible."

Two remaining student finalists Thu Zar Myint, a junior international student from Bangon, Myanmar, and Justin Bookhammer, a junior from Williamsburg, Pa., received $1,000 toward startup costs for their business. Myint's business idea is Good Day, an open-air flea market based in Berkeley, Calif. Bookhammer's business plan focused on a home computer repair business designed to visit the customer at home.

The business competition was sponsored by the Juniata Center for Entrepreneurial Leadership, the Department of Accounting, Business and Economics, the Young Entrepreneurs Society and sponsored by and sponsored by Z-Band, Inc., HDTV video distribution systems, and Bonney Forge.
Contact April Feagley at feaglea@juniata.edu or (814) 641-3131 for more information.