Four Graduates Receive Awards at Juniata Alumni Weekend
(Posted June 17, 2013)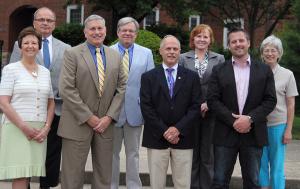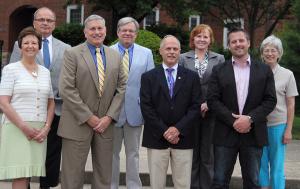 HUNTINGDON, Pa. -- Juniata College presented four alumni-related awards Saturday, June 8, during Alumni Assembly, part of Juniata's "Alumni Weekend 2013." Southborough, Mass. resident Jayne Keirn Donahue, executive vice president and general auditor for State Street Corporation and a native of Altoona, Pa., was awarded the Alumni Achievement Award; Stafford, Va. resident Frank Pote, unit chief in the FBI's Language Services Section, received the Harold B. Brumbaugh Alumni Service Award; Northport N.Y. resident Edward Richards, social worker at the Department of Veterans Affairs Medical Center, in Northport, received the William E. Swigart Jr. Alumni Humanitarian Award; and Washington, D.C. resident and Altoona native Brent A. Lightner, founder and president of Taoti Creative (http://www.taoti.com), was awarded the Young Alumni Achievement Award.

Jayne Keirn Donahue, a 1975 graduate of Juniata, has been executive vice president and general auditor for State Street Corp., a Boston-based financial services company specializing in investment assets, since 2009. She joined the company in 1996 at the vice presidential level as deputy general auditor. In 2003, she was promoted to executive vice president, and 2006 she became the bank's chief compliance officer.

She leads a team of about 200 audit professionals responsible for advancing the company's internal governance and control infrastructure.

After working as an employee-relations intern for PPG Industries Inc. in 1975, Donahue started her business career in 1976 as an inspector for the U.S. Treasury Department in the Bureau of Alcohol, Tobacco and Firearms, where she was a tax and compliance auditor. She moved into banking in 1978, working as vice president and senior audit manager for the Bank of New England.

In 1991 she moved to the Bank of Boston as audit director for the bank's Internal Audit Division. She became senior vice president and head of internal auditing at Citizens Financial Group in 1994.

She earned a bachelor's degree in psychology and business in 1975 and earned certification as a Certified Bank Auditor in 1991. She also became a Certified Risk Professional in 1997. She also has been pro-active in gender equity issues. She is a member of State Street's Global Advisory Council for the Global Professional Women's Network and is a member of the company's Leading Women Initiative.

Donahue also has remained active as a volunteer in her community and in the business community. She serves on the board of trustees' executive committee of the National Braille Press, and in 2011 and 2012 served as co-chair of the organization's fundraising galas. She also works with the United Way of Massachusetts Bay, focusing on the charity's Women's Initiative. She is on the advisory board for the master's degree program in business ethics and compliance for the New England College of Business and Finance. She also is a member of The Boston Club.

Frank Pote, a 1973 Juniata graduate, earned a bachelor's degree in sociology. He went on to earn three master's degrees. He earned a master's degree in education from Lehigh University in Bethlehem, Pa., in business administration from National University in San Diego, Calif., and in human relations from Oklahoma University in Norman, Okla.

Pote, a native of Penns Grove, N.J., has been a passionate volunteer for Juniata, serving as president of the college's alumni council twice and as alumni representative on the college's board of trustees from 2008 to 2011. He also has been involved in a variety of Juniata volunteer initiatives, including serving as a Juniata Admissions Ambassador, representing the Juniata Career Team and working on the Uncommon Outcomes Campaign team. In addition, he serves as the class fund agent for his graduating class.

Most recently, he served as the alumni representative on the college's presidential search committee. Pote continues to mentor current Juniata students and has referred several students to enroll at Juniata through the Gold Card Program.

Pote, who retired from the U.S. Marine Corps in 2000 as a lieutenant colonel, started his military career in 1976, specializing in manpower and personnel administrative positions. From 1982 to 1985, he was the director of Marine Corps Postal Operations and also served as commander of the largest recruit entrance processing station in the nation, in Detroit, Mich. Prior to his retirement, he was the director of the manpower division at the U.S. Marine Corps base in Quantico, Va. from 1995 to 1999.

After retirement from the military, Pote supervised the Prince William County (Va.) Police Department's Personnel Bureau from 1999 to 2002 and served as human resources manager for the Richmond Police Department in Richmond, Va. He also worked on several Marine Corps procurement and training projects for the military contractor Universal Systems and Technology and Jacobs Sverdrup from 2003 to 2006.

Pote joined the FBI as manager of the bureau's foreign language program in 2006 and was promoted to Chief, Translation and Deployment Unit-III in 2010.

Edward Richards, a 1973 graduate of Juniata, earned a bachelor's degree in sociology. He went on to earn a master's degree in social work from Marywood University in Scranton, Pa. and is currently licensed as a social worker in New York.

Richards, a native of Annapolis, Md., has worked as a social worker at the Department of Veterans Affairs Medical Center in Northport, N.Y. since 1978, where he has specialized in the care of Vietnam veterans, visually impaired patients and acute psychiatric care. Before coming to the agency, Richards spent a year working at Bellevue Medical Center in New York City as a social worker in the neurosurgery and plastic surgery units from 1977 to 1978.

In 2011, Richards received the Federal Employee of the Year Award for New York "for development of adaptive sports programs for all veterans in the New York City metropolitan area." Richards collaborated with the U.S. Olympic Committee, Disabled American Veterans, Wounded Warriors and other organizations to develop the first Paralympic Adaptive Sports Clinic for the Department of Veterans Affairs. The event drew participants from all periods of military service, from veterans of World War II through Vietnam and the wars in Iraq and Afghanistan.

Richards has worked as rehabilitation specialist for the blind at the medical center since 2005 and co-chaired the Persons with Disabilities Committee in 2012. In 2006 he served as national co-chair of the sports and recreation committee of the Blind Rehabilitation Service for the Department of Veterans Affairs. He also served as team leader in 2007 for the Department of Veterans Affairs National Winter Sports Clinic and as head team leader for the National Winter Sports Clinic in 2013.

In addition to his extensive work for veterans, Richards has taught behavioral science courses as an adjunct faculty member at St. Joseph's College, in Patchogue, N.Y. from 1980 to 2010. He also wrote the curriculum and taught five courses for students seeking licenses as addiction counselors. He also volunteered to provide mental health counseling to family members of the victims of the World Trade Center attack after Sept. 11, 2001.

Brent Lightner, a 2000 graduate of Juniata, founded Taoti Creative as a freshman in 1996. He earned a bachelor's degree in biology and medicine and completed his first year of medical school at the University of Leeds, England.

Taoti Creative is a web development and marketing firm based in Washington, D.C. specializing in website design, Drupal development, corporate identity, database and application development, mobile applications, online marketing and social media. The company has more than 400 clients in the United States and internationally, including National Institutes of Health, The World Bank, the California State Senate, the National Kidney Registry, American University, Sister Cities International, and the American Foreign Service Association, to name a few.

Lightner, a native of Altoona, Pa., also was a founding member and chief technology officer of HillReview LLC, a Washington, D.C.-based legislative aggregation service that was later bought out by Illumen LLC in 2001. He also worked as a sales engineer for Yellowbrix Inc., a provider artificial intelligence technology and content aggregation
Lightner has served as a volunteer for the Juniata Career Team and hosted Juniata students for "job-shadow" experiences. He also is involved in the JC/DC Regional Alumni Club, hosting several alumni events, and has served as a Juniata Admissions Ambassador.
Contact April Feagley at feaglea@juniata.edu or (814) 641-3131 for more information.