Chronicle of Higher Ed Recognizes Juniata in 'Great Places to Work' Survey
(Posted July 23, 2013)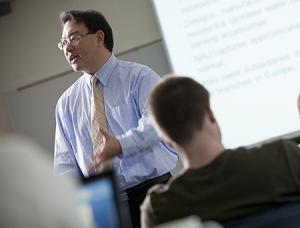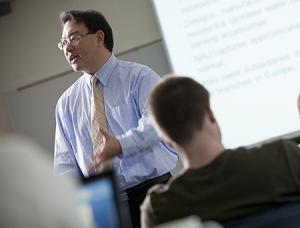 HUNTINGDON, Pa. -- Juniata College, which employs more than 400 people, was named as one of 42 four-year and two-year colleges and universities nationwide to merit placement on the Honor Roll in the Chronicle of Higher Education 2013 "Great Colleges to Work For" survey.

The 2013 Honor Roll is the fourth time Juniata has been singled out as an Honor Roll recipient since the poll began in 2008. Juniata has been named as a "Great Place to Work" every year since the Chronicle of Higher Education began the poll in 2008. The poll recognized 97 institutions in total as Great Places to Work.

Juniata was recognized as a leader in the "Small College" division (499 employees or fewer) in six out of 12 categories. The survey is based on responses to the Chronicle from more than 45,000 administrators, faculty members and staff members at 300 colleges and universities, as well as community colleges, across the country. The poll covered 227 four-year institutions (136 private institutions and 91 public institutions) and 73 two-year institutions.

"A great work environment is treasured in today's job market and Juniata is honored to be included in the Chronicle's nationally respected poll," says James Troha, president of Juniata. "The college's track record of three straight years as a member of the Honor Roll reveals that workplace respect is ingrained within Juniata's culture."

Gettysburg College is the only other college or university from Pennsylvania to make the Chronicle's Honor Roll. The other colleges or universities included in the small college honor roll were: Frontier Nursing University (Hyden, Ky.); Gettysburg College; Manchester University (North Manchester, Ind.); Milligan College (Elizabethton, Tenn.); Mississippi University for Women (Columbus, Miss.); Nebraska Methodist College (Omaha, Neb.); New York Chiropractic College (Seneca Falls, N.Y.); Southwestern Assemblies of God University (Waxahachie, Texas); and Texas Lutheran University (Seguin, Texas).


"A great work environment is treasured in today's job market and Juniata is honored to be included in the Chronicle's nationally respected poll."

James Troha, Juniata President
The Chronicle of Higher Education survey, which was administered by ModernThink LLC, a human resources consulting firm based in Wilmington, Del. that has conducted numerous "Best Places to Work" programs, surveying hundreds of thousands of employees nationwide, found that Juniata rated highly in the following categories: Facilities, Workspace and Security; Job Satisfaction; Work-Life Balance, where policies allow employees to manage their personal lives; Professional/Career Development Programs; Teaching Environment; and Tenure Clarity and Process.

Of the 300 colleges and universities polled, 97 were recognized as a Great Place to Work. To gain recognition as a Great Place to Work, an institution must be recognized in at least one of 12 categories.


The survey results are based on a two-part assessment process: an institutional audit that captured demographics and workplace policies from each institution, and a survey administered to faculty, administrators, and professional support staff. The primary factor in deciding whether an institution received recognition was employee feedback.

The Chronicle's published survey results named only those institutions that scored high enough to be recognized in a particular category. Of the employees polled nationwide, approximately 19,000 were faculty, 13,000 were considered professional staff, 6,000 were non-exempt employees and 7,000 were administrators.

The colleges and universities participating in the survey were representative of one of five classifications set by the Carnegie Foundation for the Advancement of Teaching: research universities with "very high" research activity; doctoral/research universities; master's colleges and universities; and baccalaureate colleges for arts and sciences.

Each institution participating in the survey was asked to submit a list of employees randomly selected from administration, faculty and professional support staff. The sample size for the survey was either 400 or 600, depending on the size of the institution.

Contact April Feagley at feaglea@juniata.edu or (814) 641-3131 for more information.