Juniata Art Museum Hosts Show on American Identity
(Posted August 26, 2013)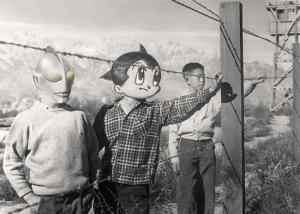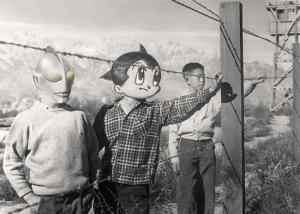 HUNTINGDON, Pa. -- The very definition of art reveals how a topic or subject is reflected through the eyes of the artist and in "Infinite Mirror: Images of American Identity," on display at the Juniata College Museum of Art from Thursday, Sept. 19 through Oct. 26, 39 artists offer a wide array of interpretations of the United States' ongoing struggle to define itself.

Opening Thursday, Sept. 19, there will be a reception at 5 p.m. at the Juniata College Museum of Art. In addition, there will be a lecture on "Assimilation and Visual Connections: Musings on American Dreams," by Blake Bradford, director of education at the Barnes Foundation and the curator of the exhibit, at 7 p.m, Tuesday, Oct. 3, in Neff Lecture Hall in the von Liebig Center for Science on the Juniata campus.

The exhibit, which features more than 50 works, is divided into four themes.

The first theme, Self Selection, reveals the artists defining their world through their own unique experiences. Works like photographer Ben Gest's "Alice Waiting," which shows a seated portrait that comments on how America treats its aging citizens, can be juxtaposed next to a self-portrait of Hispanic artist Luis Jimenez.

The next theme, Pride, shows how pride of origin can emanate from the view of the artist or by the subject matter depicted by the artist. A photo portrait of boxer Elizabeth "Pink Panther" Monge, by photographer Delilah Montoya, depicts an athlete blazing with confidence and pride in her skills.

The third theme, Assimilation, takes a look at cultural signposts of different ethnic populations and immigrants and how those mores are either adopted by the wider culture of the United States or fall by the wayside. The etching "Peach Boy," by Tomie Arai, shows a young Asian boy dressed in western garb, seemingly ready to play a game of "cowboys and Indians." The piece goes deeper as the viewer sees hints of the exploitation of Asian workers on railroads and in agricultural fields.

The last theme, Protest, incorporates the view from several artists that tweak or confront the viewer with images that present a dual image of beauty or compositional detail, yet also reveal that not all of the people who came to the United States were able to have life, liberty and the pursuit of happiness. For example Scott Tsuchitani's "Boys Love Baseball" comments forcefully on the forced internment of Japanese-Americans during World War II.

Other artists, such as Sungho Choi, create commentary through use of materials. In "American Pie," Choi created a circular "American Flag" using strips clipped from various foreign language newspapers printed in the United States. Choi also creates an "assimilation" jigsaw puzzle in "My America." In another work, "Donnie Hawleywood," artist Jennifer Greenburg sends up the culture of Elvis while showing a man celebrating the "biker" outlaw image.

The show was organized by Artrain, an Ann Arbor, Mich.-based art program that displays art exhibitions housed on a specially designed train.

The Juniata College Museum of Art is located in historic Carnegie Hall at 17th and Moore streets in Huntingdon. Museum hours are Monday through Friday, 10 a.m. to 4 p.m., and Saturday, noon to 4 p.m. For more information, please call the museum at (814) 641-3505, or visit the Juniata College Web site at http://www.juniata.edu/museum.
Contact April Feagley at feaglea@juniata.edu or (814) 641-3131 for more information.