Climate Change Scientist to Speak at Juniata
(Posted September 9, 2013)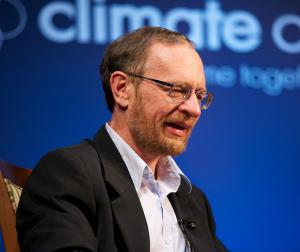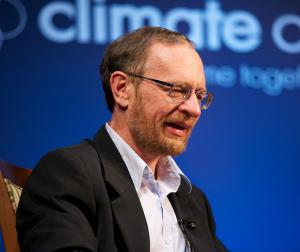 HUNTINGDON, Pa. -- One of the nation's top authorities on global climate change, Richard Alley, professor of geosciences at Penn State University, will speak at Juniata College on "Energy, Environment and Our Future: Big Challenges and Bigger Opportunities" at 7:30 p.m., Tuesday, Sept. 17, in Alumni Hall in the Brumbaugh Academic Center on the Juniata campus.

The lecture is free and open to the public. The lecture is sponsored by the Will Judy endowment with the cooperation of Juniata's Department of Geology.

Alley is the author of "Earth: An Operator's Manual," and hosted a 2011 PBS special on climate change based on his book, which presents an objective assessment of the Earth's problems and offers optimistic, informed solution possibilities. He has written more than 170 peer-reviewed publications about the relationship between Earth's cryosphere and global climate change.

Alley is one of several Penn State scientists who work on the United Nations Intergovernmental Panel on Climate Change, an organization that shared the 2007 Nobel Peace Prize with former Vice President Al Gore. He received the 2005 Seligman Crystal for his research on the stability of the ice sheets and glaciers of Antarctica and Greenland and the resulting erosion and sedimentation caused by moving ice.

He has been nationally recognized as one of the top scientists in the nation, evidenced by his election to the National Academy of Sciences in 2008. He was elected as a Fellow of the American Academy of Arts and Sciences in 2010.

His research interests center on glaciology, ice and climate, sea-level change and abrupt climate change. He has written or edited three other books, "The Two-mile Time Machine: Ice Cores, Abrupt Climate Change, and Our Future" (2000), "The West Antarctic Ice Sheet: Behavior and Environment" and "Abrupt Climate Change: Inevitable Surprises."

He earned a bachelor's degree in geology in 1983 from Ohio State University and went on to earn a master's degree from Ohio State. He earned a doctoral degree in 1987 from the University of Wisconsin.

He started his academic career as an assistant scientist at the University of Wisconsin in 1987 and went to Penn State in 1988. He was named Evan Pugh Distinguished Professor in 2000. He has traveled to Antarctica, Alaska, Greenland to do research and also has conducted research at the National Ice Core Laboratory in Denver, Colo.

The Will Judy Lectureship Series was established by Captain Will Judy, an attorney, soldier, author, and publisher who graduated from Juniata in 1911. Most of his work involved publications about dogs, including the writing of eight books, editing a dog encyclopedia, and serving as publisher for Dog World magazine. Will Judy established the lectureship series in 1960 in order to supplement and enrich the academic program at the college.
Contact April Feagley at feaglea@juniata.edu or (814) 641-3131 for more information.