Four New Trustees Named to Juniata College Board
(Posted September 23, 2013)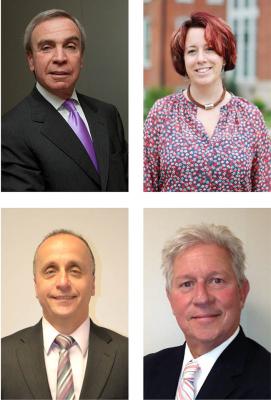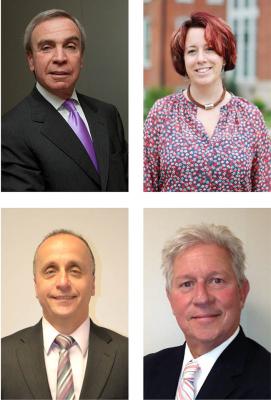 HUNTINGDON, Pa. -- The Juniata College board of trustees has added four new members to begin the 2013-2014 academic year. The new trustees appointed to begin their service Sept. 1, 2013 through August 2016 are: Dr. Gary Raymond, of Hollidaysburg, Pa.; Nathan Hevrony, of New York, N.Y.; Nicole C. Close (alumni trustee), of Mount Airy, Md.; and Dr. George Valko, of Collegeville, Pa.

Dr. Gary Raymond, a native of Gallitzin, Pa., has been the president and owner of Advanced Regional Center for Ankle and Foot Care since 1982 and also is the owner and managing partner of the Summit Tennis and Athletic Club in Altoona, Pa.

Raymond, whose son Alex graduated from Juniata in 2013, earned a bachelor's degree in biology in 1976 from the University of Pennsylvania, in Philadelphia, Pa. He went on to earn a Doctor of Podiatric Medicine degree in 1982 from the Temple University School of Podiatric Medicine.
Raymond's medical practice, the Advanced Regional Center for Ankle and Foot Care, has Pennsylvania regional offices in Altoona, Tyrone, State College, Huntingdon and Ebensburg. Raymond also has been the owner and president of the Advanced Regional Center for Clinical Research, in Altoona, Pa., since 1999. In addition, he oversees three commercial real estate ventures, Logan Partners, Vidoro Properties and RKD Partners.

He is a Fellow in the American College of Foot and Ankle Surgeons and is board certified by the American Board of Podiatric Surgery. He is a member of the American Podiatric Medical Association and the Pennsylvania Podiatric Medical Association. He is a member of the medical staff at Altoona Regional Health Systems, J.C. Blair Hospital in Huntingdon, Tyrone Hospital and Healthsouth Rehab Hospital in Altoona.

Raymond has been an active volunteer for Juniata serving as president of the Juniata College Parents Council. He also is a clinical assistant professor at Temple University's School of Podiatric Medicine, and has published articles on clinical research in medical journals. In addition he serves on the advisory board at S&T Bank, in Altoona, Pa.

Nathan Hevrony, a native of Tel Aviv, Israel, is principal and managing partner of HIG Equity LLC in New York City, a private equity capital market firm focusing on healthcare, manufacturing, and energy industries. He became managing partner of HIG Equity in 1999. Before coming to HIG, Hevrony was founding partner of Hudson Investment LLC from 1996 to 1999. In addition, He has been chairman of the board for Babcock Power Inc., an international power company with offices in Danvers, Mass. and Louisville, Ky., since 2002.

Hevrony earned a bachelor's degree in mechanical engineering in 1980 from Northeastern University in Boston, Mass., and went on to take graduate courses at the University of California, Davis. Hevrony served in the Israeli Defense Forces in a Reconnaissance Special Operations Unit during the 1973 Yom Kippur War, reaching the rank of captain.

Hevrony remains active in charitable and civic organizations. He is chairman of the board of Batsheva Dance. Co. He also serves on the boards of directors for the Tel Aviv Foundation, Prize4Life, and the International Vocal Artists Institute.

Nicole C. Close, a 1992 Juniata graduate and a native of Claysburg, Pa., is president of EmpiriStat Inc. a clinical research organization specializing in biostatistics that she founded in 2008. Close has worked in clinical research as a biostatistician for more than 17 years and has taught as an adjunct professor at George Washington University and Hood College in Frederick, Md.

Close earned a bachelor's degree in biology in 1992 from Juniata and went on to earn a master's degree in epidemiology and biostatistics in 1994 from Case Western Reserve University, in Cleveland, Ohio. She earned a doctoral degree in epidemiology in 2007 from George Washington University in Washington, D.C., and worked as a statistician and co-investigator at the university's Biostatistics Center.

She has been an extraordinarily active volunteer for Juniata, serving on the college's Alumni Council from 2005-2008 and also is a current member of the council as an alumni trustee. She also is vice chair of the board of directors for the Juniata College Center for Entrepreneurial Leadership. She has been a guest lecturer for Juniata entrepreneurial classes and recently served as a judge for JCEL's Business Plan Competition.

Close has provided scholarships for eight Juniata students to attend the Society for Clinical Trials annual meetings and has sponsored Maryland middle school students to attend Juniata's Summer Science Splash Camp. She is a regular participant at Juniata's Career Day and in 2013 Close was an alumni inductee to the Juniata Circle of Omicron Delta Kappa, a national leadership honor society.

She also founded Bear Rock Electric, an electrical contracting company, in 2011 and EZ Camper OBX Inc. in 2013.

Dr. George Valko, of Collegeville, Pa., the Gustave and Valla Amsterdam Professor of Family and Community Medicine in the Department of Family and Community Medicine at Jefferson Medical College, part of Thomas Jefferson University.

Valko earned a bachelor's degree at Juniata in biology in 1975, and went on to earn a medical degree in 1986 from Jefferson Medical College. He also is a diplomate of the American Board of Family Practice.

In addition to his teaching duties, Valko also is medical director for Jefferson Family Medicine Associates, a position he has held since 1996, and vice chair for clinical programs at Jefferson Medical College.
He has received a number of professional awards and recognition, including the 2012 Jefferson Medical College Outstanding Clinician Award, the 2011 Patient's Choice Award from the American Registry, and the 1996 Jefferson Family Medicine Resident Teaching Award. He was named Amsterdam Professor in 2009.

Valko, a native of Dunlo, Pa., served as Jefferson University's chief medical information officer from 2010 to 2012 and served on the university's board of directors from 2010 to 2011. From 2005 to 2011, he was a member of the board of directors for Jefferson University Physicians.

He has published numerous scholarly articles in professional journals and in on the editorial board of the American Journal of Medical Quality. He also holds professional memberships in the Society of Teachers of Family Medicine, the American Society of Clinical Pathologists, the American College of Medical Quality and was named a Fellow by the College of Physicians of Philadelphia.
Contact April Feagley at feaglea@juniata.edu or (814) 641-3131 for more information.