Journalist, Author to Speak on Environmental Degradation in China
(Posted September 30, 2013)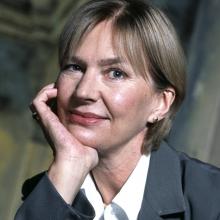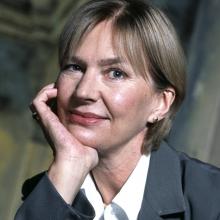 HUNTINGDON, Pa. -- Acclaimed author and international reporter Isabel Hilton will speak at Juniata College on "China and Environmental Degradation" at 7:30 p.m., Tuesday, Oct. 1, in Neff Lecture Hall in the von Liebig Center for Science on the Juniata campus.

The lecture is free and open to the public. The talk is sponsored by the Baker Institute for Peace and Conflict Studies.

Hilton, who is currently editor of chinadialogue.net, a bilingual website that publishes high-quality journalism and debate on the environment and China, will cover China's current environmental policy and how the environmental policies of the largest nation in the world are perceived by global journalists and opinionmakers.
"China is facing a complex, multi-dimensional environmental crisis that threatens to undermine its economic future, damages the development of its children and brings premature death to millions of its citizens. Is the system that brought China to crisis capable of reform?" Hilton says.

Isabel Hilton also is an Asia columnist for The Guardian, one of Britain's most prestigious newspapers. She also has worked as a staff writer for the New Yorker.

In addition to her work on chinadialogue.net, she also writes freelance journalism for such publications as the Financial Times, the New York Times, Granta, the Los Angeles Times and The New Statesman.

She began her journalism career at Scottish Television and quickly moved to print journalism, working for The Daily Express at first and moving to The Independent in 1986. In 1992 she started writing her column for The Guardian and also became a presenter on "The World Tonight," the top radio news program on the BBC. She also is a presenter for the BBC radio program "Night Waves."

She earned bachelor's and master's degrees in Chinese from the University of Edinburgh, and then spent two years studying at the Beijing Foreign Language and Culture University in China and Fudan University in Shanghai.

Contact April Feagley at feaglea@juniata.edu or (814) 641-3131 for more information.