Events Set for President Troha's Inauguration Week
(Posted October 7, 2013)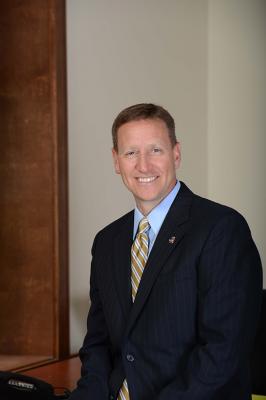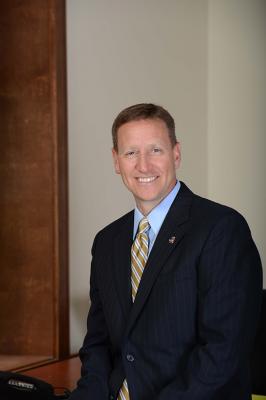 HUNTINGDON, Pa. -- James A. Troha will be formally inaugurated in what is called an "investiture ceremony" as the 12th president of Juniata College at 4 p.m., Friday, Oct. 18, in Rosenberger Auditorium in the Halbritter Center for the Performing Arts on the Juniata campus.

The 900-seat auditorium will be filled to capacity as Troha experiences the formal ceremony of becoming the college's president. Attending the ceremony will be a mix of Juniata students, faculty, administrators, alumni and delegates from the Church of the Brethren and representatives from almost 100 colleges and universities. Those who are turned away once Rosenberger Auditorium is full will be directed to Neff Lecture Hall in the von Liebig Center for Science to watch the ceremony on a large television monitor. If Neff becomes crowded, then excess crowds will be directed to Sill Boardroom, also in the science center.

"The singular thing that drew me to Juniata during my interview and periodic visits was the College's sense of community, says Troha. "We wanted to honor Juniata's traditions by emphasizing events activities that would bring the College, our alumni and Huntingdon together as a community."

The Friday inauguration ceremony will include a keynote address by Troha. Troha will be introduced by Dominic Dottavio, president of Tarleton State University, in Stephensville, Texas and the former president of Heidelberg University, in Tiffin, Ohio, where Jim Troha held a series of administrative positions, including interim president.

The ceremony also includes remarks and presentations by Kathy Westcott, interim provost; Anshu Chawla, a senior from Fairport, N.Y. and president of student government; Athena Frederick, registrar at Juniata; and Bradley Haubert, vice president of Haubert Homes and president of the alumni council. Robert McDowell, chair of the Juniata board of trustees, will open the ceremony and oversee the investiture.


"We wanted to honor Juniata's traditions by emphasizing events activities that would bring the College, our alumni and Huntingdon together as a community."

Jim Troha, president, Juniata College
Following the inauguration, there will be a reception on the campus quad as soon as the inauguration ends and there will be a 7 p.m. invitation-only inaugural gala in the Intramural Gym in Kennedy Sports and Recreation Center.

Troha succeeded Thomas R. Kepple Jr. as president June 1. Prior to taking office, Troha had worked at Heidelberg University, where he was vice president for institutional advancement and university relations. In July 2008, Troha was asked to serve as Heidelberg's interim president for a year. Troha began his administrative career at Heidelberg in 2002 as vice president for student affairs and dean of students, where he worked until he was named interim president in 2008. From 2003 to 2007, he also served as vice president for enrollment, where he helped increase enrollment by 19 percent in his first year and helped bring in the university's three largest freshmen classes in three decades.

Trohas started his academic career at the University of Evansville, in Evansville, Ind., as area coordinator and coordinator of Greek life at the University of Evansville, In 1995 he was named dean of students at Harlaxton College in Grantham, England, which is the British branch campus for the University of Evansville. In 1997 Troha was hired as dean of students at Baker University in Baldwin City, Kan., a post he held until 2001.

Troha earned a bachelor's degree in criminal justice in 1991 and went on to earn a master's degree in counseling in 1993, both from Edinboro University, in Edinboro, Pa. In 2005, he earned a doctorate in educational policy and leadership from the University of Kansas in Lawrence, Kan.

The college continues the inaugural celebration throughout the next week through Homecoming Weekend, which starts Thursday, Oct. 24 and continues through Saturday, Oct. 26.

A weeklong slate of activities designed to include students, Juniata employees and members of the Huntingdon community will start off with a 5K "Amiable Amble" Saturday, Oct. 19, from Juniata through downtown and back. Participants are asked to gather at 2:15 p.m. for a 2:30 start. The "amble" will conclude back at the campus quad, where the college's German Club will host Octoberfest, an annual event that will envelop President Troha's celebration into its annual festivities.
In addition, visitors to the campus can also opt to see a 7:30 p.m. production of the musical "Dirty Rotten Scoundrels" on Thursday or Friday, Oct. 17 and 18 in the von Liebig Theatre in the Halbritter Center.

Throughout the week starting Sunday, Oct. 20, posters from the annual Juniata research fair, the Liberal Arts Symposium, will be on display in public spaces throughout campus, primarily in lounges and public spaces. "One of the things I was most impressed by was the Liberal Arts Symposium, when I made my first visit to Juniata after my hiring," Troha says.

In addition, members of the Juniata community will be asked to give an hour or more of community service throughout the week, culminating in National Make-A-Difference Day on Saturday, Oct. 26. "We're asking that all Juniata employees and any students who are interested to donate an hour of service to a local organization," explains Lorrie Shideler, associate director of conferences and events.

On Tuesday, Oct. 22, a community-focused lunch hosted by Jim Troha and his wife, Jennifer, will be attended by members of the Huntingdon Rotary Club, the Huntingdon Lions Club and the Kiwanis Club of Huntingdon.

The focus on community will be celebrated and reinforced later in the evening by Majora Carter, who will speak on "Home(town) Security," at 7:30 p.m. in Rosenberger Auditorium. Carter, who likes to call herself, an "eco-entrepreneur," has sparked community revitalization in New York City's South Bronx neighborhood by founding Sustainable South Bronx. She and other members of the organization revitalized Hunts Point Riverside Park, as well as other parts of the Bronx River waterfront. Carter's talk will be an expanded version of her TED Talk celebrating eco-entrepreneurs from New York and across the country.

Wednesday, Jim and Jennifer Troha will eat lunch at noon in Baker refectory. Later on Wednesday, a group of Juniata student musicians and singers will hold a concert to benefit Alex's Lemonade Stand at 7 p.m. in the ballroom of Ellis Hall.

Thursday will feature an Alumni Advocates Panel, featuring three graduates who have gone on to make their mark in business and community organizations: Maria Clara Samaniego, a 2007 graduate, Leah Eslinger, a 2008 graduate, and Paul Blore, a 2005 graduate. Friday will feature the end of the Liberal Arts Symposium displays.

On Saturday, get ready for some football at noon when the Eagles suit up and clash with Muhlenberg College for this year's Homecoming game.
Finally, the week of inauguration-related events will draw to a close with a musical concert for the urban-funk-meets-classical-gas Asphalt Orchestra at 7:30 p.m., Saturday in Rosenberger Auditorium.

Contact April Feagley at feaglea@juniata.edu or (814) 641-3131 for more information.