Juniata Wind Symphony Hosts Euphonium Soloist
(Posted November 4, 2013)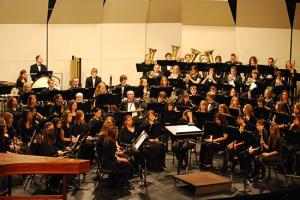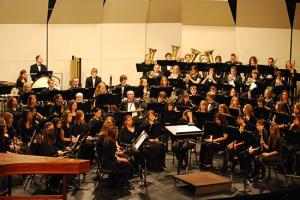 HUNTINGDON, Pa. -- As the nation approaches the 50th anniversary of the death of President John F. Kennedy, the Juniata College Wind Symphony will commemorate the event by performing a special piece at a concert at 3 p.m., Sunday, Nov. 10, in Rosenberger Auditorium in the Halbritter Center for the Performing Arts on the Juniata campus.

Tickets for the concert are $5 for adults and Juniata students with ID or children under 18 are admitted free. The Wind Symphony is directed by James Latten, professor of music at Juniata.

The concert will open with "Rocky Point Holiday," written by Ron Nelson, a renowned composer who was a music professor at Brown University in Providence, R.I.

The next selection is "Elegy for a Young American," written by Ronald LoPresti to honor the life of John F. Kennedy." Latten will ask audience members to briefly share memories of the day Kennedy was assassinated. Lo Presti was a music professor at Texas Tech University and at Indiana University of Pennsylvania.

The next section of the concert will focus on three of the college's chamber ensembles: the Woodwind Quintet, the Brass Quintet and Saxophone Quartet.

The Wind Symphony will finish the concert by performing "Air for Band," by Frank Erickson, a former music professor at San Jose State University who started his career as a jazz arranger with Earle Spencer and his Orchestra.

"All Those Endearing Young Charms" will follow. The composition was written by Simone Mantia based on a popular folk song to feature the euphonium. The selection offers guest and euphonium artist Mark Brumbach as soloist. Brumbach, band director at Oley Valley High School in Oley, Pa. was also Latten's roommate in college.

The concert will close with "Canticle of the Creatures," written by James Curnow. The piece is based on the writings of St. Francis of Assisi.

The members of the Wind Symphony are as follows:
The Juniata College Honors Saxophone Quartet: Kyle Kister, Carly Hafer, Brian Gilbert and Roman Acri.

The Juniata College Honors Woodwind Quintet: Allison Brown, bassoon; Robert Draham, oboe; Katelyn Hilands, flute; Robert Shaw, clarinet; and Aaron Zack, horn.

The Juniata College Honors Brass Quintet: Adam Rothstein, horn; Brandon Leckemby, trumpet; Jared Flick, trombone; Bradley Spayd, trumpet; and David Toole, tuba.

Flute: Pallma Crouch, a sophomore from Bethel, Conn.; Alex Debrecht, a junior from Winston-Salem, N.C.; Katelyn Hilands, a senior from Johnstown, Pa.; Katie Jeffress, a freshman from Corpus Christi, Texas; and Tori Rehr, a senior from Wernersville, Pa.

Oboe: Robert Draham, a senior from Port Republic, Md., and Alexandra Stoudt, a freshman from Fleetwood, Pa.

Bassoon: Allison Brown, a junior from Monroeville, Pa.
B Flat Clarinet: Kaleigh Herron a freshman from Croton-on-Hudson, N.Y.; Laura Kelly, a sophomore from Gibsonia, Pa.; Amanda Mercado, a senior from Houston, Texas; Robert Shaw, a freshman from Springfield, Pa.; Anna Sweeney, a freshman from Carlisle, Pa.; and Nikea Ulrich, a freshman from Homer, N.Y.

Bass Clarinet: Janet Berlin, a community member from Huntingdon.

Alto Saxophone: John Coda, a junior from, Shady Grove, Pa., and Kyle Kister, a junior from Somerset, Pa.

Tenor Saxophone: Brian Gilbert, a junior from Stroudsburg, Pa.

Baritone Saxophone: Roman Acri, a senior from Harrisburg, Pa.

Horn: Dave Dunlap, a community member from Huntingdon. Pa.; Adam Rothstein, a freshman from Huntingdon, Pa.; and Aaron Zack, a freshman from Media, Pa.

Trumpet: Brandon Leckemby, a junior from Somerset, Pa.; Cody Sieber, a community member from Mount Union, Pa.; Bradley Spayd, a sophomore from Altoona, Pa.; and Doug Wennick, a community member from Mount Union, Pa.

Trombone: Maggie Burkett, a senior from Granville, Ohio; Joel Canner, a sophomore from State College, Pa.; and Jared Flick, a sophomore from Richfield, Pa.

Euphonium: Nathan Anderson-Stahl, a sophomore from Camp Hill, Pa.

Tuba: David Toole, a sophomore from West Grove, Pa.
Contact April Feagley at feaglea@juniata.edu or (814) 641-3131 for more information.