The Table' Stars Puppet Named Moses in Blind Summit Theatre Production
(Posted November 12, 2013)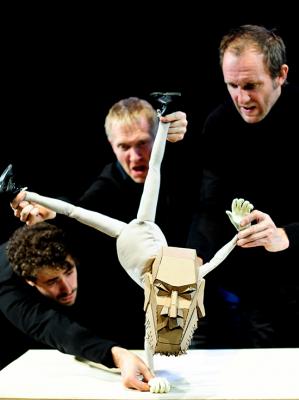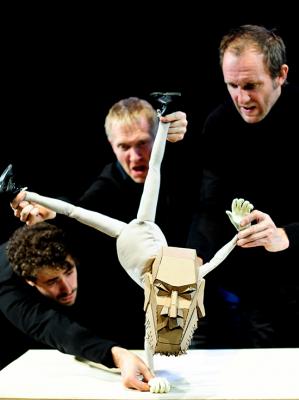 HUNTINGDON, Pa. -- It's hard to imagine something more minimalist than a simple puppet with a cardboard head and it's even harder to imagine the entire full-fledged theatrical experience tasking place on a bare piece of furniture, but "The Table," which will be held at 7:30 p.m., Wednesday through Friday, Nov. 13-15, at Juniata College in the Suzanne von Liebig Theatre, will reveal that you don't have to think small when working with puppets.

For tickets and information about the Juniata College Presents series, please call (814) 641-JTIX (5849). General admission tickets for single performances are $20, except where otherwise noted. Single-show tickets for seniors over age 65 and children age 18 and under are $12. Juniata College students are admitted free with a student ID.

The focus of "The Table" is a puppet named Moses, who is having an existential crisis atop a table. As Moses is manipulated by the puppeteers of Blind Summit Theatre, drama and comedy ensue as the cantankerous bit of cloth and cardboard creates a riveting night of theatre.

Moses holds the stage by announcing that he's being typecast, too often being asked to perform in fairy tales or at children's birthday parties. He's fed up with such a limited vision and yearns for more. After all, he's an artist.

Originally, Moses the puppet was more a supporting player in the production, but as the Blind Summit players continued to develop the play, audiences asked to see more Moses. So, it became a one-man, er, one-puppet show. Of course, Moses can't do everything by himself. In fact, a one-man puppet show requires at least three puppeters. The puppeters for this show are Nick Barnes, Mark Down, Sean Garratt and Irena Stratieva.


"A must-see evening of astonishingly accomplished puppetry."

The Telegraph, United Kingdom
The company Blind Summit Theatre was created in 1997 by Nick Barnes and Mark Down as a modern update and subversion of Bunraku puppetry, an ancient Japanese form of entertainment.

The performers have created their own works and have designed puppets for such large projects as "Madame Butterfly," produced by the late Anthony Minghella, and the Opening Ceremony at the 2012 London Olympics, directed by Danny Boyle.

The performers coming to Juniata are as follows.

Mark Down is artistic director of the Blind Summit. He originally trained as a doctor but turned to acting.

Nick Barnes is co-director of the troupe and studied drama at Hull University. He trained in puppetry at the International Institute of the Marionette in France.

Sean Garratt has performed with Blind Summit for several years and also competes in comedy improvisation.

Irena Stratieva was trained in puppetry at the National Academy of Theatre and Film Arts in Sofia, Bulgaria and the Central School for Speech and Drama in London.

A critic from the Telegraph, in the United Kingdom wrote, "A must-see evening of astonishingly accomplished puppetry."

The group lists its artistic inspirations as The Wooster Group, Handspring Theatre and the Sex Pistols.


"The puppet's body looks like a naked Dobby (the house elf) from the 'Harry Potter' movies. His face is an oversized cardboard tribal mask. The three handlers are so synchronized in their handling of Moses that he appears alive," writes Katy Walsh of chicagotheaterbeat.com.

Contact April Feagley at feaglea@juniata.edu or (814) 641-3131 for more information.