We Got the Beat: Percussion Ensemble to Perform
(Posted November 25, 2013)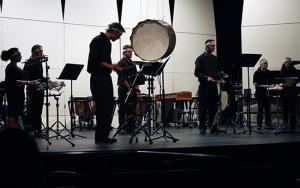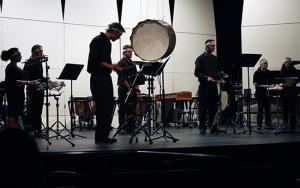 HUNTINGDON, Pa. -- Juniata College's Percussion Ensemble will play a composition by the college's instrumental music professor, plus mix a vast array of musical influences ranging from Henry Mancini to John Bonham in its fall concert at 7:30 p.m., Tuesday, Dec. 3, in Rosenberger Auditorium in the Halbritter Center for the Performing Arts on the Juniata campus.
Tickets for the concert are $5 for adults and Juniata students with ID or children under 18 are admitted free. The Jazz Ensemble is directed by James Latten, professor of at Juniata.

The concert opens with "The Haunted Hall," a Halloween-themed piece written by James Latten and premiered at Juniata in a 2007 concert. The piece has members of the Percussion Ensemble playing instruments that are attached to the stage, turning the performance hall itself into a musical instrument.

The next selection is "Let the Big Dawg Eat," by Chris Brooks, a session musician and jingle composer who specializes in percussion compositions. This piece is a jazz quintet.

The next section of the concert will be devoted to Steely Pan and the PVCs, a small group who play steel drums and odd musical instruments made from varying lengths of PVC plumbing pipe. The group will perform "Cha Cha Sandwich," "Jump in the Line," and "Yellow Bird," a Haitian folk song adapted by famed movie songwriters Alan and Marilyn Bergman.

The percussion ensemble returns on the next piece, "Just Like That," by Josh Gottry, a song in which the percussionists use one woodblock and one drum in a cascara pattern. The composition uses various time signatures throughout the piece.

Next the audience will see various "keyed" percussion instruments such as marimbas, vibraphones and xylophones, as the Keyboard Percussion Choir performs "Les Rejouissance," a composition Georg Frederic Handel write for a royal fireworks exhibition. The group continues with "Prelude for Four Marimbas," by Stanley Leonard, who played with the Pittsburgh Symphony and taught at Carnegie Mellon University.

The keyboard percussionists end their section by playing Handel's classic "Hallelujah Chorus."

After intermission, the entire Percussion Ensemble returns to perform "Bonham" which was written by composer Christopher Rouse to honor John "Bonzo" Bonham, the celebrated rock drummer for Led Zeppelin. The core of the composition is based on the Zeppelin song "When the Levee Breaks," but other Led Zeppelin classics are referenced in the piece.

"This piece is the 'masterwork' of this concert, with extremely difficult rhythms and layering of patterns," says Latten.

The next selection will focus on a musical demonstration by the World Percussion Lab, where Juniata students will play a variety of percussion instruments from different cultures, including African drums and Hispanic rhythm instruments.

The Percussion Ensemble will return to play "Junk Funk," by Mario Gaetano. The song asks the musicians to play pieces of junk. The Juniata group will play recycled items and other junk such as cardboard boxes, metal pipes, brake drums, tin cans and flower pots.

The PVC band returns to perform three more instrumentals, "Don't Worry, Be Happy," made famous by jazz singer Bobby McFerrin; "Limbo," which includes audience participation; and "Super Mario Brothers."

The concert will end with the classic television theme "Peter Gunn," written by Pittsburgh native and Hollywood composer Henry Mancini. Bridget Canning, a junior from Centre Hall, Pa., will be featured on electric bass.

The members of the percussion ensemble are as follows:
Ethan Abbe, a freshman from Alexandria, Va.; Nikhil Bhatnagar, a junior from Sterling, Va.; Jillian Bloise, a freshman from Monroeville, Pa.; Matt Brumbaugh, a sophomore from Pen Argyl, Pa.; Maggie Burkett, a senior from Granville, Ohio; Prabjhot Carrasco, a freshman from Easton, Pa.; Christina Estright, a freshman from Norristown, Pa.; Jonathan Geyer, a freshman from Newport, Pa.; Alex Gibboney, a community member from Huntingdon, Pa.; Taylor Hohenstein, a freshman from Charlottesville, Pa.; Rebecca Katz, a freshman from Somerset, Pa.; Reinaldo Liem, a senior from Bandung, Indonesia; Jessica Murray, a freshman from Carlisle, Pa.; Katya Rebman,a senior from , Elizabethtown, Pa.; Emily Reinl, a junior from Mechanicsburg. Pa.; Silas Robinson, a junior from Sinking Spring, Pa.; Bethany Slaughter, a freshman from Mt. Airy, Md.; Stephen Spruell, a sophomore from Friedens, Pa.; Melissa Topping, a sophomore from Harrisburg, Pa.; Jordan Troxell, a freshman from Curwensville, Pa.; Lydia Warters, a freshman from West Simsbury, Conn.; and Emily Zimmerman, a freshman from Ephrata, Pa.
Contact April Feagley at feaglea@juniata.edu or (814) 641-3131 for more information.