Site Seeking: Juniata Archeologist to Talk on Colonial Digs
(Posted November 25, 2013)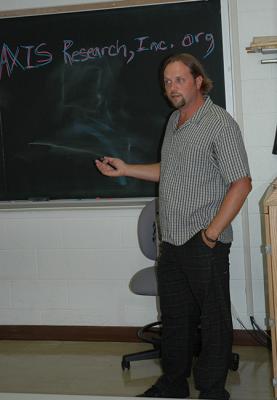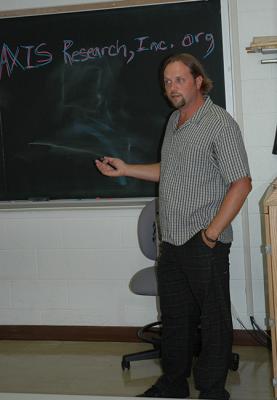 HUNTINGDON, Pa. -- Those who cannot remember history usually complain that the discipline is all about memorizing names and dates, but Jonathan Burns, a lecturer in geography at Juniata College will talk about how examining and analyzing long-abandoned historical sites can make history come alive in a talk at 4:30 p.m., Tuesday, Dec. 3, in Neff Lecture Hall in the von Liebig Center for Science on the Juniata campus.

The lecture, titled, "Commerce and Conflict on Central Pennsylvania's Colonial Frontier: Archaeology at Forts Shirley and Lyttelton," is free and open to the public. The Bookend Seminar lectures are a series of talks by Juniata faculty each month during the academic year.

Burns has overseen a series of archeological digs at the sites of two Pennsylvania forts used in the French and Indian War (7154-1763), Fort Shirley and Fort Lyttelton,. Burns will talk about how these projects have enabled historians to see how Europeans and Native Americans interacted with the colonists living in or near the forts.

During his talk, Burns will explain the significance of the sites and show details and artifacts from the excavations. He also will address how using students from Penn State and Juniata College nurtures experiential learning that can in turn contribute to historic preservation in Pennsylvania.

Burns also is a lecturer in anthropology and archeology at Penn State University. At Juniata, he teaches the Archeological Survey course at the Raystown Field Station. He also team-teaches Juniata's Wine in a Vessel course with Bethany Benson, associate professor of art and Peter Baran, associate professor of chemistry.

Burns has been an instructor at Penn State's Archeological Field School since 2010. He also is president and research director for AXIS Research Inc., an archeological consulting business that he founded in 2004. He also worked as an adjunct professor of anthropology at Penn State Altoona from 2010 to 2013.

He earned a bachelor's degree in archeology in 1993 from Penn State University and went on to earn a master's degree in 1996 in archeology from Colorado State University. He earned a doctoral degree in archeology in 2009 from Temple University.

Burns is a member of several professional organizations, including the Archeological Conservancy. He also serves on the editorial advisory board of the conservancy's magazine, American Archeology.
Contact April Feagley at feaglea@juniata.edu or (814) 641-3131 for more information.