Ethan Lipton's 'No Place to Go' Puts Unemployment to Music
(Posted January 13, 2014)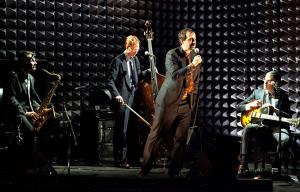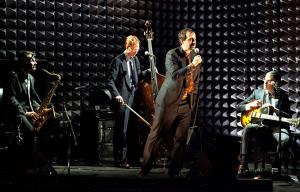 HUNTINGDON, Pa. -- In a soul-searching, soul-shouting combination of monologue, plea, complaining and musical theatre, Ethan Lipton and his Orchestra will put the uncertainty of unemployment, downsizing and relocation into an entertaining package at Juniata College with the concert "No Place to Go," at 7:30 p.m., Friday, Jan. 24, in Rosenberger Auditorium in the Halbritter Center for the Performing Arts on the Juniata campus.

For tickets and information about the Juniata College Presents series, please call (814) 641-JTIX (5849). General admission tickets for single performances are $20, except where otherwise noted. Single-show tickets for seniors over age 65 and children age 18 and under are $12. Juniata College students are admitted free with a student ID. The presentation is made possible through a grant from the Mid Atlantic Arts Foundation, with Support from the National Endowment for the Arts.

Ethan Lipton is a longtime stage and cabaret performer based in New York City. Like many performing artists, Lipton has to take non-musical jobs to pay the bills. In his stage show, he says he has a "permanent part-time" job in publishing. Or at least he used to. It seems the company he worked at us moving out of town, although Lipton wails that the firm is "moving to Mars." "No Place to Go" is Lipton's method for working through the anxiety, angst and anger of uncertain employment.

Perfectly timed for today's economy, Lipton takes center stage and outlines his tale of woe and worry by talking about missing his old colleagues, not playing on the company soccer team and laments the language of layoffs, through songs, monologues and music.

Lipton is accompanied by his "orchestra," which consists of saxophonist Vito Dieterle, guitarist Eben Levy and bassist Ian M. Riggs. The songs they have written are mostly originals inspired by Depression balladeers, country singers and jazz crooners. With Lipton, the style of the song is designed to illuminate corners of corporate life usually left unexamined.


"Ethan Lipton looks less like a silken-throated lounge lizard than he does a beaten down ad salesman -- an ordinary Joe singing gentle songs about everyday life"

New York magazine
The songs range from love songs to co-workers to protest songs against an unfeeling corporation to raging against his newly unemployed fate. Like such drama-meets-musical offshoots as "Pennies From Heaven," "The Singing Detective" and "Glee," "No Place to Go" combines pathos, humor and a killer soundtrack to the new employment paradigm.

"Ethan Lipton looks less like a silken-throated lounge lizard than he does a beaten down ad salesman -- an ordinary Joe singing gentle songs about everyday life," wrote a critic from New York magazine

Ethan Lipton and his Orchestra have released four albums and perform all over the East Coast, but primarily in New York City. They have performed on such radio shows as "Soundcheck," "Weekend Edition" and "The World."

Lipton, an accomplished actor and playwright, performed in the acclaimed "Great Gatsby" offshoot "Gatz," and has written plays performed in New York, Los Angeles, Seattle and Edinburgh, Scotland.

Contact April Feagley at feaglea@juniata.edu or (814) 641-3131 for more information.