Juniata International Student Wins Bailey Oratorical Second Consecutive Year
(Posted March 5, 2014)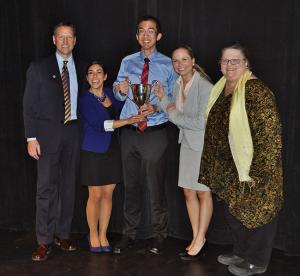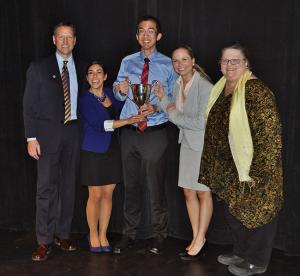 HUNTINGDON, Pa. -- Reinaldo Hermawan Liem, a senior from Bandung, Indonesia, received the first-place award Tuesday night in the annual Juniata College Bailey Oratorical Contest for the second consecutive year by saying that for equality, justice and freedom to ring for all, citizens of the world must speak up.

Liem, who received $1,000 for the First Place award, and six other contestants were asked to address the topic: "What Will it Take for Freedom, Justice and Equality to Ring for All?" before three judges and a cheering audience of students, Tuesday, March 4 in the von Liebig Theatre in the Halbritter Center for the Performing Arts on the Juniata campus.

Liem cited his own experience of living in Indonesia, describing his world in 1998 as living in "a dictatorship that crushed people's voices and worsened ethnic-based class inequality. This enforced silence brought about the tragedy of human torture."

He urged students to never be silent when they see injustice because, "It is because silence breeds torture, silence breeds pain, but speaking up brings change."

Liem pointed out that his experience in Indonesia might seem to be miles away from students' experience in Huntingdon, but went on to say that many local students recall that silence had played a major role in the investigation of former Penn State football coach Jerry Sandusky. "These helpless young children needed justice," Liem said. "However, long silence brought eternal pain for those victims."


"Silence breeds torture, silence breeds pain, but speaking up brings change."

Reinaldo Liem, senior
Elise Mihranian, a senior from Chester Springs, Pa., earned the second-place prize, receiving $500. Angela Myers, a senior from Gallitzin, Pa., was awarded the third-place prize, receiving $300. Myers also received the People's Choice Award

In his winning speech, Liem cited Juniata's commitment to creating a supportive and safe environment by forming a bias response team, using an innovative "notice of concern" program and scheduling events centered on equality and justice.

"Through every piece of our writing, our artwork and our speeches, Juniata and the world will hear our voices," Liem declared.

Quoting Martin Luther King Jr.'s words, "Darkness cannot drive out darkness, only light can do that. Hate cannot drive out hate, only love can do that."

Liem concluded his speech by saying, "With love, courage is born.
Through this courage, we, free citizens of the world, will speak up, we will be heard and create change. Never again, will we let history record our silence. Let history record our voice."

The remaining four finalists were: senior James Taylor, of Huntingdon, Pa., ; juniors Nikki Halstead, of Huntingdon, Pa., and Colton Hallabuk, of Towanda, Pa.; and sophomore Alexandra Bernosky, of Mayfield, Pa.

Judges for the event were:

Ann Benzel, president of Benzel's Bretzel Bakery, an Altoona, Pa.-based snack foods business. In addition to her work in the Blair County business community, Benzel also has an extraordinary record of community service, including her dedication to the restoration of Altoona's historic Mishler Theatre.

She currently serves on the boards of the Southern Alleghenies Museum of Art, Blair County Arts Foundation, Citizens for the Arts in Harrisburg, Pa., UPMC Altoona Health System, UPMC Altoona Health System Foundation for Life, American Cancer Society Volunteer Leadership Council and is a trustee of Mt. Aloysius College.

She also served as board chair of the Altoona Public Library and as a board member of the Home Nursing Agency, Bon Secours Hospital, St. Francis University, Altoona Blair County Development Corporation, the Central Pennsylvania Community Foundation, and the Mid-Atlantic Arts Foundation in Baltimore, Md.

Brenton Joo Mitchell, a 2006 graduate of Juniata, is training program manager for Penn State University's World in Conversation; A Center for Public Diplomacy. His responsibilities include managing and training dialogue facilitators, researching the center's initiatives, and supporting program development opportunities.

Mitchell previously worked as an Americorps volunteer in California, Louisiana, and Mississipp1. He returned to Juniata in 2008, working in various jobs in Juniata's Office of Student Services.

Maurice Taylor, vice president for academic outreach and engagement and former Dean of the School of Graduate Studies at Morgan State University in Baltimore, Md., is a two-decade member of the Juniata board of trustees. At Morgan State he oversees Morgan's online degree programs, the Division of Continuing Education, the Summer Session, the Winter Session, and Special Programs including English as a Second Language, the Upward Bound and Educational Talent Search Programs, and the offices of Civic Engagement and Community Outreach.

Previously, Taylor's duties as dean of graduate studies included chairing the Graduate Record Examination Board and served as the President of the Council of Historically Black Graduate Schools. Taylor has published an Introduction to Sociology textbook, numerous articles in professional journals, and chapters in a variety of other texts. Taylor has been a member of Juniata's Board of Trustees for 21 years.

Taylor earned a bachelor's degree from Juniata in 1972 in sociology and went on to earn a master's degree and doctorate from Bowling Green State University, both in sociology. He also earned a law degree from Duke University's School of Law.

The original Bailey Oratorical Award was established in 1910 by Letitia Fisher Bailey and the Honorable Thomas F. Bailey, who served as president judge of Huntingdon County from 1916 to 1936. The contest is named in honor of John M. Bailey, the father of Thomas Bailey, and a former Huntingdon County president judge.

The oratorical contest has a long tradition at Juniata College, as students from all areas of study can compete for the monetary prize. The original prize for the contest was $15 and $25. An enhanced endowment contribution by Judge Bailey's son-in-law Colonel Sedgley Thornbury, provides the contest's prize money. In addition, the name of the winner will be permanently inscribed on an antique loving cup presented to the college by Colonel Thornbury's son, Thomas Bailey Thornbury.

Contact April Feagley at feaglea@juniata.edu or (814) 641-3131 for more information.