Debo Band to Play Ethiopian-Style Pop Music in Concert
(Posted March 18, 2014)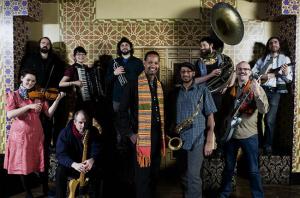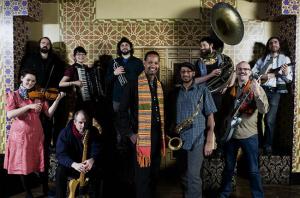 HUNTINGDON, Pa. -- World music fans can be forgiven if they haven't heard the latest Ethiopian pop music, but that possible oversight by well-rounded listeners will be remedied at Juniata College by a concert by Debo (pronounced "debbo" as in Deborah) Band, an Ethiopian pop group, at 7:30 p.m., Friday, March 21, in Rosenberger Auditorium in the Halbritter Center for the Performing Arts on the Juniata campus.

For tickets and information about the Juniata College Presents series, please call (814) 641-JTIX (5849). General admission tickets for single performances are $20, except where otherwise noted. Single-show tickets for seniors over age 65 and children age 18 and under are $12. Juniata College students are admitted free with a student ID.

Debo Band is an 11-piece eclectic band that combines the hot horns and brass of soul bands with tastes of violin, electric instruments and even an accordion. Led by saxophonist Danny Mekonnen, the band mixes traditional Ethiopian scales and vocal styles, stirs in American funk and soul flavors and finished the stew of influences with arrangements resembling European brass bands.

The band has toured Ethiopia to great acclaim and recently began a tour of the United States that included stops at the Bonnaroo Music and Arts Festival, Lincoln Center in New York City, Washington's Kennedy Center, South by Southwest and the New Orleans Jazz & Heritage Festival.

Debo band recently released its album "Debo Band." The album was voted onto the 2012 "50 Favorite Albums" list by NPR Music.


"Debo Band is charged up on a beguiling mix of riotous energy and sinuous swing."

NPR Music
The band's personnel includes Danny Mekonnen, saxophonist; Bruck Tesfaye, vocalist; Gabriel Birnbaum, tenor saxophonist; Danilo Henriquez, trumpeter and percussion; Jonah Rapino, electric violinist; Kaethe Hostetter, 5-string violinist; Marie Abe, accordionist; Brendon Wood, guitarist; Arik Grier, sousaphonist; P.J. Goodwin, bassist; and Adam Clark, drummer.

Although the group plays Ethiopian music, all the band members live and perform around Boston, where the group was formed in 2006.
A music critic for NPR Music wrote, "Debo Band is charged up on a beguiling mix of riotous energy and sinuous swing."

Contact April Feagley at feaglea@juniata.edu or (814) 641-3131 for more information.