Juniata Student Artists Exhibit Capstone Projects
(Posted March 24, 2014)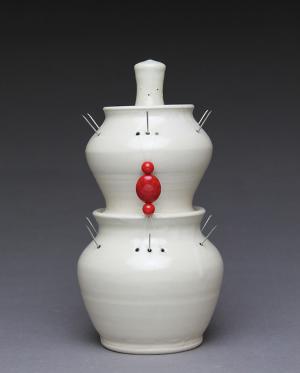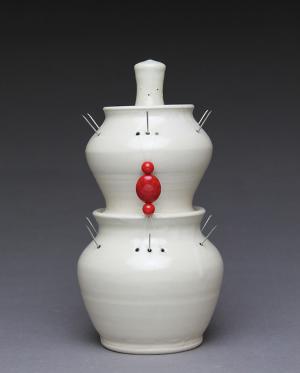 HUNTINGDON, Pa. -- Six students studying art at Juniata College will display artworks ranging from hand-built ceramic sculptures to infrared landscape photographs in a show, "Senior Capstone Art Exhibition" at the Juniata College Museum of Art from Thursday, March 20, through Saturday, March 29.

There will be an opening reception on March 20 at 6 p.m. in the museum. The reception and continuing exhibition is free and open to the public.

Each year, Juniata's fine arts professors ask seniors or junior students majoring in art to spend their final year at the college creating art themed to a year-end capstone exhibit.

The students participating this year are:

Janice Jackson, a senior from Roaring Branch, Pa. Jackson's work uses photography to explore the world around her.

Thomas Jordan, a senior from Derwood, Md. Jordan also works in photography, using the infrared spectrum.

Catherine "Kitty" Myers, a senior from Shirleysburg, Pa. Myers created a variety of ceramic vessels.

Ting Peng, a senior international student from Dujiangyan, China, will exhibit a variety of paintings.

Kate Riotte, a junior from Durham, Conn., will display art in a variety of mediums.

Hilary Palmer, a senior from Fayetteville, Ga., exhibits ceramics and hand-built ceramic sculptures.

The works on display were created in art classes supervised by Monika Malewska, associate professor of art, Bethany Benson, associate professor of art and Patricia Howard, assistant professor of art, Louis Reilly, lecturer in art, and Jason Gorcoff, lecturer in art.

The museum is located in historic Carnegie Hall at 17th and Moore streets in Huntingdon. Museum hours are Monday through Friday, 10 a.m. to 4 p.m., and Saturday, noon to 4 p.m. For more information, please call the museum at (814) 641-3505, or visit the Juniata College Web site at http://www.juniata.edu/museum.
Contact April Feagley at feaglea@juniata.edu or (814) 641-3131 for more information.