Wind Symphony Concert to Debut Local Composer's Work
(Posted March 31, 2014)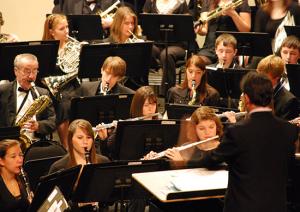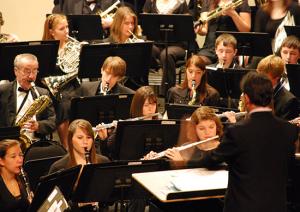 HUNTINGDON, Pa. -- The spring concert of the Juniata College Wind Symphony will feature music by Richard Strauss, the world premiere of a local composer's work and a performance by a student soloist at 3 p.m., Sunday, April 6, in Rosenberger Auditorium in the Halbritter Center for the Performing Arts on the Juniata campus.

Tickets for the concert are $5 for adults and Juniata students with ID or children under 18 are admitted free. The Wind Symphony is directed by James Latten, professor of music at Juniata.

The concert will open with "Angels in the Architecture," composed by Frank Ticheli, a renowned concert band composer who is a professor of music at the University of Southern California. Ticheli was guest conductor of the Juniata group in 2008.

The German composer Richard Strauss wrote the next selection "Allerseelen." Strauss, a composer in the Romantic tradition. "Allerseelen" is an example of a lieder, or a piece setting poems to music.

Alex Debrecht, a senior from Winston-Salem, N.C., will play the flute on the selection "Night Soliloquy," by Kent Kennan. Debrecht is the co-winner of the 2013-2014 Juniata College Concerto Competition. Kennan, who died in 2003, was a longtime music professor at the University of Texas, Austin. "Night Soliloquy" was originally written for solo flute, piano and strings.

Just before intermission, the wind symphony will play "Tarantella, Op. 62," by Gus Guentzel, a 20th century composer (1868-1950).

In the second half of the program will feature Juniata's Honors Chamber Ensembles. The Honors Brass Quintet, The Honors Woodwind Quintet and the Honors Saxophone Quartet will play selections to highlight their talents.

The world premiere of "Into This World," will feature Ginger Reinhardt, soprano soloist, and the Juniata Wind Symphony. The composer is Timothy Melbinger, a music professor at Penn State Altoona. He earned a bachelor's degree at the University of California-Irvine and went on to earn a doctorate at Brandeis University. Ginger Reinhardt is head of vocal music at The Grier School, in Birmingham, Pa., and a performer who has appeared in productions nationwide.

The final selection will be "Valdres," by Johannes Hanssen, a Norwegian composer and bandmaster noted for his martial music. "Vadres" is a march based on the natural beauty of Norway's Vadres region.
The Wind Symphony musicians are as follows:

Juniata College Honors Saxophone Quartet: Kyle Kister, alto sax; Jason Ward, alto sax; Brian Gilbert, tenor sax; and Roman Acri, baritone sax.

Juniata College Honors Woodwind Quintet: Hannah Lutwyche, cello; Robert Draham, oboe; Tori Rehr, flute; Robert Shaw, clarinet; and Aaron Zack, horn

Juniata College Honors Brass Quintet: Adam Rothstein, horn; Brandon Leckemby, trumpet; Jared Flick, trombone; Joel Canner, trombone; Bradley Spayd, trumpet; and Cody Sieber, trumpet


Flute: Rebecca Brumbaugh, a junior from Hilton, N.Y.; Pallma Crouch, a sophomore from, Bethel, Conn.; Alex Debrecht, a junior from Winston-Salem, N.C.; Katie Jeffress, a freshman from Corpus Christi, Texas; and Tori Rehr, a senior from Wernersville, Pa.

Oboe: Robert Draham, a senior from Port Republic, Md.; Alexandra Stoudt, a freshman from Fleetwood, Pa.; and Alexandra Stroud, a sophomore from Ellicott City, Md.

B Flat Clarinet: Kaleigh Herron a freshman from Croton-on-Hudson, N.Y.; Laura Kelly, a sophomore from Gibsonia, Pa.; Robert Shaw, a freshman from Springfield, Pa.; Anna Sweeney, a freshman from Carlisle, Pa.; and Nikea Ulrich, a freshman from Homer, N.Y.

Alto Saxophone: Carly Hafer, a freshman from Greencastle, Pa.; Kyle Kister, a junior from Somerset, Pa.; and Jason Ward, a junior from Hawk Run, Pa.

Tenor Saxophone: Kate Bock, a freshman from Warriors Mark, Pa., and Brian Gilbert, a junior from Stroudsburg, Pa.

Baritone Saxophone: Roman Acri, a senior from Harrisburg, Pa.

Horn: Dave Dunlap, a community member from Huntingdon. Pa.; Makayla Hawbaker, a freshman from Shade Gap, Pa.; Adam Rothstein, a freshman from Huntingdon, Pa.; and Aaron Zack, a freshman from Media, Pa.

Trumpet: Elizabeth Faust, a junior from Thurmont, Md.; Brandon Leckemby, a junior from Somerset, Pa.; Cody Sieber, a community member from Mount Union, Pa.; and Bradley Spayd, a sophomore from Altoona, Pa.

Trombone: Maggie Burkett, a senior from Granville, Ohio; Joel Canner, a sophomore from State College, Pa.; Jared Flick, a sophomore from Richfield, Pa.; and Faith Thoman, a freshman from Thomasville, Pa.

Euphonium: Nathan Anderson-Stahl, a sophomore from Camp Hill, Pa.

Tuba: John Kovalchik, a community member from Petersburg, Pa.

String Bass: Rebecca Katz, a freshman from Somerset, Pa.
Contact April Feagley at feaglea@juniata.edu or (814) 641-3131 for more information.