Dancing in Light is Focus of 'Eclipse' Production
(Posted April 7, 2014)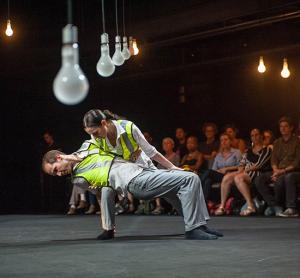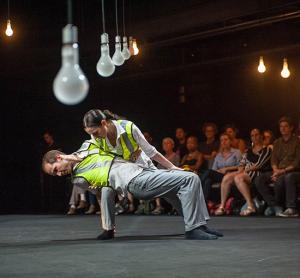 HUNTINGDON, Pa. -- Dancers performing through a complicated maze of lights is the central image and artistic goal of the production "Eclipse," conceived by dancer Jonah Bokaer and installation artist Anthony McCall, and performed at Juniata College at 7:30 p.m., Tuesday and Wednesday, April 15 and 16 in the Suzanne von Liebig Theatre in the Halbritter Center for the Performing Arts.

For tickets and information about the Juniata College Presents series, please call (814) 641-JTIX (5849). General admission tickets for single performances are $20, except where otherwise noted. Single-show tickets for seniors over age 65 and children age 18 and under are $12. Juniata College students are admitted free with a student ID.

"Eclipse" was made possible by the New England Foundation for the Arts' National Dance Project, with lead funding from the Doris Duke Charitable Foundation and additional funding from The Andrew W. Mellon Foundation.

The production takes place in an Anthony McCall installation of 36 light bulbs hanging at various lengths over the central stage. Members of the audience are seated around the performance space. A solo dance by Bokaer opens the production, followed by a four-person ensemble piece. The show ends with another solo performance by Bokaer.

This unique installation is designed to be viewed by the public from four sides.


"Soft and lush, edgeless, hypnotic."

Huffington Post dance critic
Sound design, by David Grubbs, is another important element in the production as the dancers react to the overlaid sound of a clicking stutter that mimics a running film projector. The film metaphor is purposeful, as choreographer Bokaer and McCall call the show an exercise in "exploded cinema."

The dancers move through areas of dark and light, and sometimes dance in the flickering light as if they were in a darkened movie palace. A Huffington Post dance critic described Bokaer's choreography as "soft and lush, edgeless, hypnotic."

In addition to Bokaer, the dancers in the production are Adam H. Weinert, Tal Adler-Arieli, Laura Gutierrez and Sara Procopio.

Bokaer is an award-winning choreographer and media artist whose career started as a dancer with modern dance pioneer Merce Cunningham. He also worked with Ann Carson, Daniel Arsham and Anthony McCall. He also has worked as a choreographer for the works of theatre artist Robert Wilson.

Anthony McCall is a British-born artist whose work specializes in expanded cinema, and the use of film applied towards sculpture and real-time drawing. He had a series of exhibitions specializing in the use of solid, projected light as both an art object, and an environment. The historical contribution of his art career began in the early 1970s. His work is exhibited in major museums and institutions worldwide.

Contact April Feagley at feaglea@juniata.edu or (814) 641-3131 for more information.