Juniata Museum of Art to Display Fooed-inspired Art of Mia Brownell
(Posted April 7, 2014)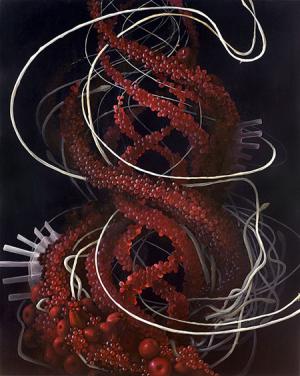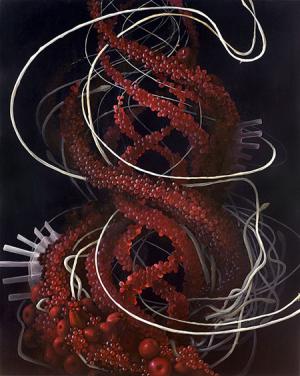 HUNTINGDON, Pa. -- Melding the painterly, well-lit realism of 17th century Dutch still-life masters with today's obsession with nutrition and food, artist Mia Brownell will have a solo exhibition from Thursday, April 10, through Sept. 13 at the Juniata College Museum of Art.

There will be an opening reception for the exhibit, titled "Mia Brownell: Delightful, Delicious, Disgusting," at 5 p.m. Thursday, April 10. The reception and museum exhibit are free and open to the public.

Using almost photo-realistic techniques, Brownell paints grapes, apples, pears and other foodstuffs, but places the luscious-looking fruit in science-inspired structures resembling the DNA double-helix, or strands of chromosomes or amino acid chains.

Brownell's work has been described by art critic Cate McQuaid as "a postmodern fruit cocktail that marries today's fascination with genetics and the building blocks of life with old-style painterly seduction."

In addition to many solo and group art exhibitions, Brownell's work has been published in a variety of food-related publications, including the New York Times, the Boston Globe, Gastronomica, The Journal of Food and Culture and Hi-Fructose.


"A postmodern fruit cocktail that marries today's fascination with genetics and the building blocks of life with old-style painterly seduction."

Cate McQuaid, art critic
She uses her still-life style to also comment on contemporary issues surrounding food. Brownell says of her work, "The synthesis of these natural and artificial states creates an ambiguity that I find captivating. American attitudes toward food as a commodity fascinate me. My paintings embrace a fusion of traditional still-life techniques and scientific models, sublimated by notions of American dyspepsia."

Brownell is professor of art at Southern Connecticut State University. She started her academic career there in 2001. She earned a bachelor's degree in fine art in 1993 from Carnegie-Mellon University in Pittsburgh, Pa., and went on to earn a master's degree in fine art in 1995 from State University of New York, Buffalo. She also studied painting at the Parsons School of Design in Paris. She also studied printmaking at Paris' École Nationale Supérieure des Beaux-Arts and philosophy at the American University in Paris.

She has had solo shows at the James Beard Foundation in New York City, the Housatonic Museum of Art, in Bridgeport, Conn., Museum of Arts and Culture, in New Rochelle, N.Y., and at Union Brown Gallery at Duke University.

Her work is displayed in several private, corporate and public art collections, including Wellington Management, Fidelity Investments and the National Academy of Sciences. Her work is represented by the J. Cacciola Gallery in New York City.

Museum hours are Monday through Friday, 10 a.m. to 4 p.m., and Saturday, noon to 4 p.m. through May 6. The museum will be closed from May 6 to May 20. On May 21, the museum's summer hours, Wednesday through Friday from 12 to 4 p.m. For more information, please call the museum at (814) 641-3505, or visit the Juniata College Web site at http://www.juniata.edu/museum.

Contact April Feagley at feaglea@juniata.edu or (814) 641-3131 for more information.