NIH Award-winner: Biology Student Gets Research Post
(Posted April 28, 2014)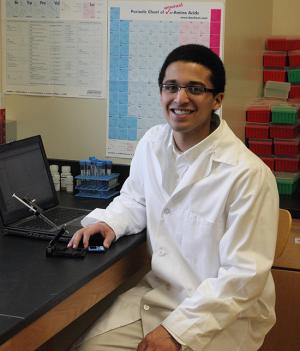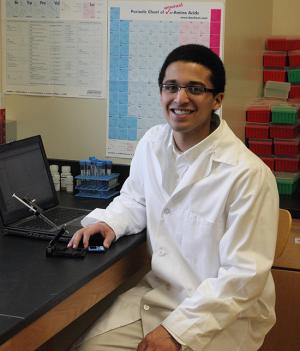 HUNTINGDON, Pa. -- Andrew J. Maul, a senior from Portage, Pa., at Juniata College studying biology, was recently awarded the National Institutes of Health's Post-Baccalaureate Intramural Research Training Award, a yearlong opportunity that will allow Maul to work in an NIH research lab.

Maul will be working at the National Institute of Dental and Craniofacial Research in Bethesda, Md. He will start his research in June in the laboratory of Pamela Robey, chief of the agency's skeletal biology section and co-coordinator of the NIH Bone Marrow Stromal Cell Transplantation Center.

Maul applied for the NIH opportunity because he wanted to have a research experience before he applies to medical schools next year. "Originally I didn't have plans to do research beyond my undergraduate work, but at Juniata I've had such great research experiences on and off campus that I wanted to gain more laboratory experience before I go to medical school," he says. "In medicine there are more and more translational applications that combine medical practice with research findings and as an aspiring physician-scientist, I think gaining research experience is extremely important."

Last summer, Maul was able to work in the lab of Harvard Stem Cell Institute scientist Jenna Galloway. He spent 10 weeks working on a stem cell research project at the Center for Regenerative Medicine at Massachusetts General Hospital after receiving the Exceptional Research Opportunities Program Award from the Howard Hughes Medical Institute.
Maul, the son of Jeff and Karen Maul of Portage, Pa., is a 2010 graduate of Portage Area High School.

Maul has been involved in undergraduate research at Juniata since fall semester 2012. He works with Regina Lamandella, assistant professor of biology, on a project Lamandella started at Berkeley National Lab in Berkeley, Calif. that examines insulin-resistant individuals and whether a resistant starch diet (foods that are more difficult to digest) will change how the bacteria in the gut may function.

"As an aspiring physician-scientist, I think gaining research experience is extremely important."

-Andrew Maul

The Juniata senior also participated in an internship in summer 2012 with the Mentoring in Medicine program at Conemaugh Memorial Medical Center, in Johnstown. Pa.

On campus, Maul remains active in student activities, including membership in the Health Occupations Students of America, or HOSA Future Health Professionals.

Contact April Feagley at feaglea@juniata.edu or (814) 641-3131 for more information.