Juniata Soccer Athletes Kick Off Marketing Project
(Posted April 22, 2014)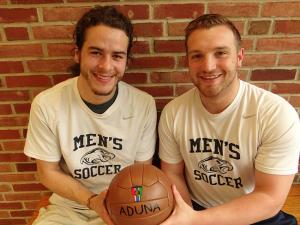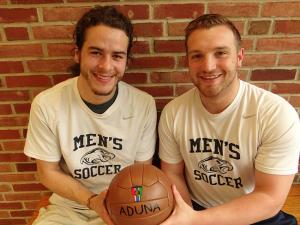 HUNTINGDON, Pa. -- Andy Blunk, a Juniata College senior studying environmental science and a four-year starter on the Juniata soccer team, has taken the central idea of his chosen sport -- teamwork -- to kick off a business designed to give young soccer players a cross-continental assist.

Blunk, a State College, Pa. resident, started Aduna Soccer in 2012 with a simple idea. If he could sell one soccer ball to individuals, soccer teams or sporting goods stores, he would in turn donate one soccer ball to elementary or secondary schools in The Gambia, a western Africa country.

Based on the business model used by Toms Shoes, where a purchase of shoes in a developed country funds a shoe donation made in an underdeveloped country, Aduna Soccer bends that idea slightly by using the funds generated by domestic soccer ball sales to purchase the donated balls from Gambian suppliers.

Blunk started his business at the Juniata College Center for Entrepreneurial Leadership in 2013.

"We buy the ball locally to promote businesses in the Gambia and develop local markets," says Blunk, who studied abroad at the University of the Gambia during the 2012-2013 academic year. He returned to the country in May 2013 as a student assistant for Juniata's annual summer course in the Gambia and used his time there to cement several local connections. Eventually Blunk met a young entrepreneur named Modou Jobe, who agreed to be Aduna Soccer's representative in The Gambia.

Over the past 18 months, Blunk has found a manufacturer in Pakistan that will make branded Aduna soccer balls. The balls are shipped to JCEL, where Blunk delivers them to customers. "We have two types, one is the classic white soccer ball and the other is a brown 'antique' style," Blunk explains.

So far, the company has sold about 80 soccer balls, largely through a branded Facebook page. Blunk knew his business needed to be kicked to the next level, particularly with graduation looming in May, so he turned to a teammate for an assist.

Dane Azeles, a Juniata senior from Hollidaysburg, Pa. studying marketing, also is a Juniata soccer athlete and he could see some holes in Blunk's marketing game. This semester, Azeles was assigned Blunk's business as a marketing project for the course he was taking, "Marketing Strategies." Taught by Jim Donaldson, professor emeritus of business, the class is separated into distinct teams that work to market a business or idea for a single client.

"We thought we could easily help spread brand awareness," Azeles says. "We wanted to expand the business into other undeveloped countries, which was the original goal, but we have our work cut out for us."

Azeles and the marketing team created a new website for Aduna Soccer, which should go live May 16 at www.adunasoccer.com. In addition, the student team recommended that Blunk work on expanding the donation program into Guatemala, Mexico and Brazil, countries where Juniata has established programs or alumni ties. Additional recommendations included focusing on bulk sales to secondary school athletic departments and independent sporting goods stores.

Both Azeles and Blunk are looking to continue their connection to Aduna Soccer once they graduate, although as a part-time enterprise. "Andy's idea has given me a genuine interest in what he's trying to do," Azeles says.
Contact April Feagley at feaglea@juniata.edu or (814) 641-3131 for more information.