Juniata Biochemistry Student Receives Amgen Scholarship to Study at UC-San Diego
(Posted April 28, 2014)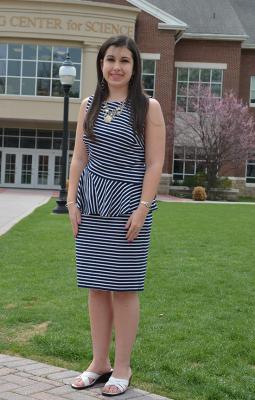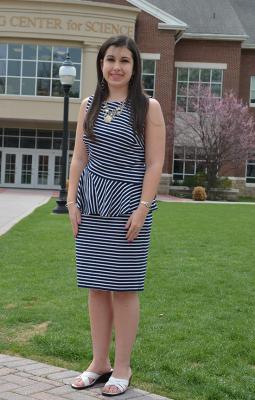 HUNTINGDON, Pa. -- Andrea Waksmunski, a junior at Juniata College from Northern Cambria, Pa. studying biochemistry, received a scholarship from the Amgen Scholars Program to study and perform research this summer at a laboratory at the University of California-San Diego.

Waksmunski, the daughter of Larry and Diane Waksmunski, both of Northern Cambria, will work as an undergraduate researcher in a microbiology laboratory at the University of California-San Diego. She will work at the lab from May through late August and attend the Amgen Scholars U.S. Symposium at UCLA.

She is a 2011 graduate of Northern Cambria High School.

The financial support for the program varies by institution, but all scholars receive a living stipend, room, board and a travel allowance both to the UCLA symposium and travel to and from their host university.

The Amgen scholars can study at one of 10 sites across the country, including the California Institute of Technology, Columbia University/Barnard College, Massachusetts Institute of Technology, Stanford University, University of Washington, Washington University (St. Louis), and four University of California campuses: Berkeley, Los Angeles, San Diego and San Francisco.


"Juniata has exposed me to different techniques and scientific programs that I wouldn't have a chance to work with otherwise."

Andrea Waksmunski, junior
Waksmunski also received an Honorable Mention designation for her research proposal for the Barry M. Goldwater Scholarship, which is chosen based on academic merit in mathematics, science and engineering.

Waksmunski was chosen from a field of more than 1,000 students from hundreds of colleges and universities nationwide.

The Goldwater Foundation is a federally endowed agency established by Public Law 99-661 in 1986. The scholarship program honoring the late Sen. Barry M. Goldwater was designed to foster and encourage outstanding students to pursue careers in mathematics, natural sciences and engineering.

"Juniata has exposed me to different techniques and scientific programs that I wouldn't have a chance to work with otherwise," Waksmunski says of her research experience. "My professors here are very interested in my success and the support system we have at Juniata is extraordinary. I've been able to establish a work ethic in the lab which has helped me understand that frustration happens in research and a good scientist has to overcome frustration to keep working toward the final goal."

As a researcher, Waksmunski has accumulated an impressive amount of experience. She spent the 2013-2014 academic year working with Vince Buonaccorsi, professor of biology, on assembling a more complete genome for a species of rockfish and also assembling bacterial and fungal genomes.
In addition, she spent summer 2013 as a researcher in the lab of Regina Lamendella, assistant professor of biology, where Waksmunski integrated a software program that assisted the lab in tracking metabolic pathways for bacteria. This past summer, she made a presentation of her research project at the Landmark Summer Research Symposium at Susquehanna University.

Waksmunski has been active on the Juniata campus, where she is a member of the Tri-Beta Honor Society. She served as secretary for Tri-Beta in 2013-2014 and also served as 2013-2014 treasurer for the Juniata chapter of the American Society of Microbiologists. She will serve as president of the ASM student organization next year. She was inducted into Omicron Delta Kappa, the national leadership honor society in 2014 and is a member of the Chemistry Club.

The Amgen Foundation has donated $34 million over the past eight years to give about 2,400 undergraduates hands-on research experience. The Amgen Foundation seeks to advance science education; improve patient access to quality care; and strengthen communities where Amgen employees live and work. Amgen is a biotechnology company specializing in biopharmaceutical projects such as Enbrel, Epogen and Neulasta.

Contact April Feagley at feaglea@juniata.edu or (814) 641-3131 for more information.