Juniata Honors Three Professors with Teaching, Service Awards
(Posted May 12, 2014)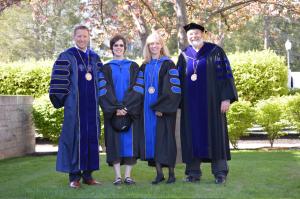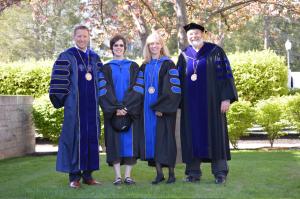 HUNTINGDON, Pa. -- Three Juniata College faculty members were honored Tuesday, May 6, with distinguished teaching and service awards during the College's Spring Awards Convocation in Rosenberger Auditorium in the Halbritter Center for the Performing Arts. Honored for their work were Kathryn Westcott, professor of psychology and interim provost; Jamie White, Book Professor of Physics; and Jennifer Streb, associate professor of art.


The convocation was held in Rosenberger Auditorium in the Halbritter Center for the Performing Arts. The convocation address was given by Belle Tuten, professor of history.


Kathryn Westcott, a Huntingdon, Pa. resident, was honored with the 25th annual Beachley Award for Distinguished Academic Service, and Jamie White, a Huntingdon, Pa. resident, was named the 47th recipient of the Beachley Award for Distinguished Teaching. Jennifer Streb, a Pennsylvania Furnace, Pa. resident, received the Henry and Joan Gibbel Award for Distinguished Teaching (for faculty members with fewer than six years of service).


Nominations for the awards are received from students, faculty, administrative personnel, alumni and trustees. The college president, the provost, the student government president, and the three most recent recipients of the award make the final selections.


The last three Distinguished Teaching Award recipients were Belle Tuten, professor of history (2013); James Borgardt, professor of physics (2012); and Emil Nagengast, professor of politics (2011). The first was presented in 1989 to the late Mary Ruth Linton, professor emerita of music. Last year's academic service award recipient was John Bukowski, professor of mathematics. The recipients of the 2013 Gibbel Award for Distinguished Performance were Bethany Benson, associate professor of art, and Matt Powell, associate professor of geology.


Kathryn Westcott, a Huntingdon resident, joined Juniata's faculty in 2003. She earned a bachelor's degree in psychology from Ohio State University in 1994. She went on to earn a master's degree in psychology in 1998 and a doctorate in psychology in 2001, both from the University of Cincinnati.

"Kathy has been a campus leader in improving Juniata's methods for assessing faculty teaching and also helped develop the college's general education assessment plan," says James A. Troha, Juniata's president. "Her work as interim provost has been invaluable."


From 2011 to 2013, Westcott served as assistant provost and was co-chair of Juniata's most recent accreditation review by the Middle States Commission on Higher Education. She also has helped develop and implement Juniata's general education assessment plan and served as director of Juniata's Lakso Center for the Scholarship of Teaching and Learning from 2009 to 2010. She was promoted to associate professor in 2009.

In May 2013 she agreed to serve as interim provost for the 2013-2014 academic year as the college conducted a nationwide search for provost. She oversaw the college's academic departments as well as a variety of other assignments. She is a member of the Intercultural Learning Assessment Committee.


She also holds certifications in school psychology from the Pennsylvania, Ohio and Indiana departments of education.


Before starting her academic career, Westcott worked as a school psychologist for the Monroe County Community School Corporation in Bloomington, Ind. and for the Clermont County Educational Service Center in Batavia, Ohio from 1999 to 2001. During that time, she also was a practicum and intern supervisor for school psychology trainees through the University of Cincinnati and the University of Dayton.


In addition, she worked in community mental health from 1994 to 1996 as a psychiatric case manager integrating adults with chronic mental illness into the community. Westcott has frequently presented research papers on teaching and learning to Division 2 of the American Psychological Association, the teaching of Psychology.

Jamie White is the William I. and Zella Book Professor of Physics and teaches students in the Physics, Physics Education, and Engineering Physics programs of emphasis.

He joined the Juniata faculty 1998 from the State University of New York at Potsdam, where he was an assistant professor of physics. At Juniata, he received the Gibbel Award for Distinguished Teaching in 2004 and was promoted to full professor in 2006.


"Jamie is one of Juniata's most dedicated and student-centered educators," Troha says. "He has overseen countless research projects involving lasers, atomic cooling and other principles of physics."


Recently, White and his wife, Laura, established a business at Juniata's JCEL as the United States representatives for MOGLabs USA, a scientific instrumentation development company specializing in lasers and other instrumentation, headquartered in Melbourne, Australia.


White earned a bachelor's degree in physics in 1985 from Carleton College and went on to earn a master's of education degree 1993 in physics and a doctorate in physics in 1994, both from Penn State University.

He started his career in education teaching physics at The Haverford School from 1985 until entering graduate school in 1989. He also was assistant professor of physics and education at Baldwin-Wallace College, in Berea, Ohio, from 1994 to 1997 and an assistant professor of physics at the College of Potsdam, SUNY.

White has taught such courses as general physics, musical acoustics, electronics, mechanics, optics, modern physics and methods of teaching secondary science.

He has published scholarly articles in the journals Optical Letters, the Journal of Chemical Physics, Surface Science, American Journal of Physics, The Physics Teacher, and Journal of the Acoustics Society of America.

During a sabbatical of 2004-05, White served as visiting senior researcher at the Quantum Optics Laboratory of the University of Melbourne. He has continued his work at Juniata College in the development of a new mechanism for laser light production by efficient up-conversion in rubidium vapor. He also collaborates with University of Melbourne colleagues as a partner in MOGLabs.

Each year for more than a decade, White serves as the associate director of the Pennsylvania Science Olympiad Competition, which holds its state finals competition at Juniata and as president of the Huntingdon County Habitat for Humanity.

Jennifer Streb, a native of Altoona, Pa., came to Juniata in 2005 as an assistant professor of art history. She earned a bachelor's degree in business administration in 1993 from Juniata College. She went on to earn a master's degree in art history in 1997 from Penn State University and a doctoral degree in art history in 2004 from Penn State.

"Jen Streb also has helped spread Juniata's academic reputation across the country by developing a groundbreaking art exhibit on an influential American artist, painter and printmaker Minna Citron, which has traveled to other museums," says Troha.

'?®'?®
Streb teaches introductory and upper-level courses in art history and museum studies. She also co-teaches a "Chemistry & Art" course with Richard Hark, professor of chemistry and team-teaches a course on "Art, Lit and the Land." Streb also serves as the curator of the Juniata College Museum of Art and oversees aspects of the college's museum studies program. She was promoted to associate professor in 2012.

She recently developed a nationally traveling retrospective exhibition of the work of American painter and printmaker Minna Citron that debuted at Juniata in 2012. The exhibit also has traveled to other museums, including Lebanon Valley College's Suzanne Arnold Art Gallery and the Millstrom Museum of Art at Gustavus Adolphus College in St. Peter, Minn. Future exhibitions are scheduled in Texas and Georgia.

Currently she and Hark are collaborating to research and analyze the Juniata museum's collection of portrait miniatures. This summer, Streb will continue her research into Juniata's portrait miniature collection at the Winterthur Museum in Wilmington, Del. as a research fellow.

'?®'?®She began her teaching career as a graduate assistant at Penn State University and has held several jobs as an instructor of art history: at Penn State Altoona (1999-2005), the Penn State World Campus (2004-2005), and the Department of Continuing Education at St. Francis University in Loretto, Pa. She also gained curatorial experience working in several frame shops and as the Gallery Manager at Penn State Altoona.'?®'?®

Streb wrote the 2012 exhibition catalog titled "Minna Citron: The Uncharted Course from Realism to Abstraction" and has written catalog essays for exhibits on Citron in 2005 and Pittsburgh artist Henry Koerner in 2001. She also published an article on Citron's "Feminanities" series in "The Woman's Art Journal."

Streb has presented her research regularly at the Popular Culture Association/American Culture Association Conference. She has given numerous gallery talks at museums hosting the Citron exhibition, Penn State's Palmer Museum of Art, Gettysburg College and the Southern Alleghenies Museum of Art.

She is a current member of the College Art Association, the American Alliance of Museums, the Association of Academic Museums and Galleries, and the American Culture Association.
Contact April Feagley at feaglea@juniata.edu or (814) 641-3131 for more information.