Juniata Student from Honeoye Falls, N.Y. Receives Amgen Scholarship
(Posted May 12, 2014)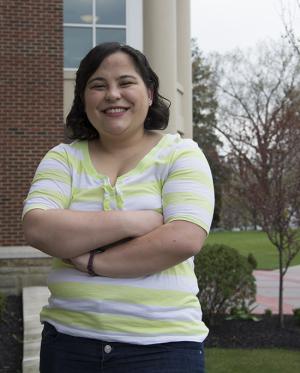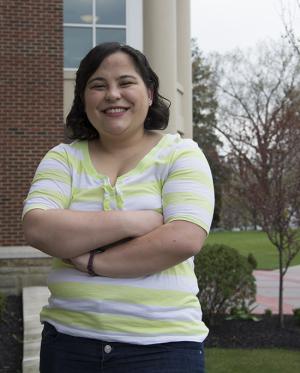 HUNTINGDON, Pa. -- Rachel Rowlands, a junior at Juniata College from Honeoye Falls, N.Y. studying chemistry, received a scholarship from the Amgen Scholars Program to study and perform research this summer at a laboratory at the University of Washington in Seattle, Wash.

Rowlands, the daughter of Anne and Dave Rowlands, both of Honeoye Falls, N.Y., will work as an undergraduate researcher for Rahim Totah, associate professor of chemistry, working on bio-organic synthesis with drug toxicity and protein interactions. She will work at the lab from June 22 through mid-August and attend the Amgen Scholars U.S. Symposium at UCLA.

She is a 2012 graduate of Honeoye Falls-Lima Senior High School.

The financial support for the program varies by institution, but all scholars receive a living stipend, room, board and a travel allowance both to the UCLA symposium and travel to and from their host university.

The Amgen scholars can study at one of 10 sites across the country, including the California Institute of Technology, Columbia University/Barnard College, Massachusetts Institute of Technology, Stanford University, University of Washington, Washington University (St. Louis), and four University of California campuses: Berkeley, Los Angeles, San Diego and San Francisco.


"Chemistry is a fantastic department with great faculty that encourage you to think critically and jump into research."

Rachel Rowlands, junior, Honoeye Falls, N.Y.
"Chemistry is a fantastic department with great faculty that encourage you to think critically and jump into research," she says. "There is a large gap between the theory you learn in the classroom and the practice of science in the lab. Juniata gives students the opportunity to learn all the techniques you need to bridge the gap between theory and practice."

As a researcher, Rowlands has accumulated an impressive amount of experience. She spent summer 2013 working as an intern in the lab of Rudi Fasan, professor of chemistry at the University of Rochester, where she worked on bio-organic synthesis of anti-cancer drugs.

In addition, she the entire 2013-2014 academic year as a researcher in the lab of John Unger, assistant professor of chemistry, where Rowlands worked on synthesis of vinyl triflates.

Before she reports to the University of Washington, Rowlands will study abroad for two weeks in China as part of the Juniata course "China Today."

Rowlands has been active on the Juniata campus, where she served as 2013-2014 treasurer for the Chemistry Club and will serve as president of the club in 2014-2015. She also is a member of the Juniata Activities Board.

The Amgen Foundation has donated $34 million over the past eight years to give about 2,400 undergraduates hands-on research experience. The Amgen Foundation seeks to advance science education; improve patient access to quality care; and strengthen communities where Amgen employees live and work. Amgen is a biotechnology company specializing in biopharmaceutical projects such as Enbrel, Epogen and Neulasta.

Contact April Feagley at feaglea@juniata.edu or (814) 641-3131 for more information.