Field Trip: Juniata Professors Collaborate with GE to Analyze Artworks
(Posted August 8, 2014)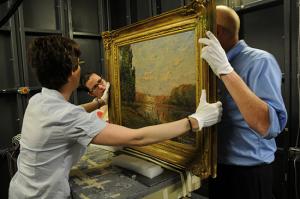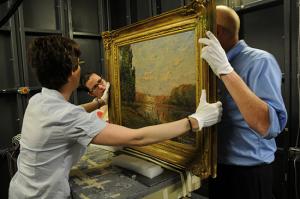 HUNTINGDON, Pa. -- Artists from Leonardo da Vinci to Pablo Picasso knew that art springs from creative imagination and the ability to use the proper equipment. After all, Leonardo wouldn't have painted "The Last Supper" with a 4-inch paintbrush. Similarly, scientists interested in analyzing anything from iron ores to fine art know they need the correct instrument to do the job.

Which is why Richard Hark, professor of chemistry at Juniata College, and colleague Jennifer Streb, associate professor of art and curator of the Juniata College Museum of Art, packed up four paintings and a bunch of portrait miniatures and traveled to the General Electric Customer Solutions Center in Lewistown, Pa.

The two Juniata professors, who team-teach the college's Chemistry and Art course, are immersed in a research project focused on the college's collection of portrait miniatures. A portion of the Juniata College Museum of Art's permanent collection is comprised of about 70 portrait miniatures painted by American and European artists. Streb and Hark are collaborating to use modern scientific instruments to analyze the component parts of the artworks in order to shed light on such questions as provenance and the materials the artist used.

"Collaborating with scientists and having access to sophisticated equipment for analysis is exciting because it can provide another layer of information about what we know about objects," Streb says. "For this project we're hoping to learn more about the techniques, processes, and materials used by the artists and we're thinking about what art and science can tell us about material culture."

Juniata has a wealth of scientific instruments such as an SEM microscope, a LIBS (laser-induced breakdown spectroscopy) instrument, confocal microscopes and others, but the college does not yet have some of the more highly specialized instruments that would help analyze paintings and other artwork.


"For this project we're hoping to learn more about the techniques, processes, and materials used by the artists and we're thinking about what art and science can tell us about material culture."

Jennifer Streb, associate professor of art
As it turns out the GE facility, located about 40 miles down Route 22 from Juniata, is equipped with some of these tools because the Customer Solutions Center does much of the high-level testing for materials used in GE's products used in the aerospace, energy, technology infrastructure and consumer industries. In addition to testing GE's products, the facility also trains employees on using instrumentation and collaborates with colleges and universities interested in using similar instruments.

Hark, a chemist who has used such instruments as a Raman microscope, a X-ray fluorescence spectrometer and other instruments to analyze artworks at Juniata and at the Victoria & Albert Museum in London, was interested in learning how to apply a few additional techniques to art analysis. The methods include:

--X-Radiography: Using technology similar to that employed for medical X-rays, this method provides an image of what lies beneath the surface of the paint to help determine the pigments used to create the piece. It also can reveal evidence of damage repaired during past restorations.

--Infrared Reflectography (IRR): This approach uses infrared light to "look" through individual layers of paint so to reveal changes the artist made or if the artist painted over another painting or used charcoal to sketch the image before painting.

--Computerized Axial Tomography (CAT): CAT scans provide the user with three-dimensional images of an object; the GE instrument uses a small "beam" to scan the artwork, which in turn gives the image much more detail. The CAT scanner could only be used on the portrait miniatures that are not encased in glass frames, because glass interferes with the analysis.

GE came into the picture when Hark, who had attended an advanced chemistry and art workshop at Villanova University, visited the University of Pennsylvania Museum of Archaeology. While there, several scientists invited him to see their lab, where they were analyzing materials found in one of the museum's mummies.

"The chief scientist at the museum told me that they had samples from the mummy analyzed at GE in Lewistown," Hark explains. "I came home and literally looked the number up in the phone book and got the receptionist, who eventually led me to Jeff Urbanski, the facility's chief technical director."

Urbanski invited both Juniata professors to the site, and together with three research students, Emma Campbell, of Cape May Court House, N.J., Kate Passannante, of Derry, N.H., and Lauren Steigen, of Glenville, Pa., the group brought a variety of artworks.

"We brought four paintings that have been attributed to well-known painters in the past, but are currently appraised as being only 'in the manner of' that artist," Hark says. The group brought a work bearing the signature of Claude Monet, one in the manner of Gustave Courbet, a Renaissance work possibly painted by Tiepolo and a Dutch panel painting that might be by Adriaen Brouwer.

"Scientific analysis can help provide clues that are useful in helping experts attribute paintings. If we can provide supporting evidence that might help convince a professional appraiser that we indeed have a Monet or Courbet, that would be great," Hark says. "But it's also a great educational opportunity to show how these techniques can be applied to a work of art."

Contact April Feagley at feaglea@juniata.edu or (814) 641-3131 for more information.