The Queue' Brings Comedic Dance Troupe to Juniata
(Posted September 8, 2014)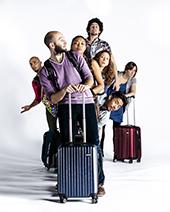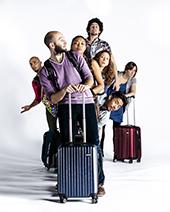 HUNTINGDON, Pa. -- Combining dance, theatre and music, with a heavy helping of slapstick and humor, the Lucky Plush Production dance show "The Queue" uses an endless wait at a glacially moving airport line to create a thrilling theatrical experience at 7:30 p.m., Thursday, Sept. 18, in Rosenberger Auditorium in the Halbritter Center for the Performing Arts on the Juniata College campus.

For tickets and information about the Juniata College Presents series, please call (814) 641-JTIX (5849). General admission tickets for single performances are $20, except where otherwise noted. Single-show tickets for seniors over age 65 and children age 18 and under are $12. Juniata College students are admitted free with a student ID.

The presentation of "The Queue" is made possible by the New England Foundation for the Arts' National Dance Project, with lead funding from the Doris Duke Charitable Foundation and additional funding from The Andrew W. Mellon Foundation.
While impatiently waiting at a fictional airport, the cast of "The Queue" explores the opportunity to dance in and out of the private lives of seven travelers.

While the plot of this quirky dance and comedy production centers on seven strangers there are several parallel plotlines that reveal relationships between a few of the characters.

By weaving the primary storyline of missed opportunities and family connections into the unrelated personal stories of other characters, the cast uses modern dance and physical humor to comment on the contemporary desperation, humor and tragedy of modern air travel.

"The Queue" is "a terrific odyssey, full of amusing, varied and tireless dancing," according to the dance critic for the Chicago Tribune.

"The Queue" is "a terrific odyssey, full of amusing, varied and tireless dancing," according to the dance critic for the Chicago Tribune.

"The Queue" uses ploys from vaudeville, classical stage farce and Busby Berkeley-style choreography to inspire laughter and amazement from the audience.

Created by the theatrical dance company Lucky Plush Productions, "The Queue" is the creation of artistic director Julia Rhoads, a former dancer in the San Francisco Ballet.

Lucky Plush Productions, a Chicago-based ensemble, was founded by Rhoads in 1999. The company has created and performed more than 30 original works, such as "The Queue," "Cinderbox 18," "Punk Yankees" and "The Better Half," which is based on the movie "Gaslight."

The company performing "The Queue" includes the dancers Francisco Avila, Michel Rodriguez Cintra, Marc Macaranas, Melinda Jean Myers, Cassandra Porter, Benjamin Wardell and Meghann Wilkinson. Julia Rhodes is the artistic director and Leslie Buxbaum Danzig is the collaborating director for the production.

Contact April Feagley at feaglea@juniata.edu or (814) 641-3131 for more information.