Printmaking Group Exhibition at Juniata Museum of Art
(Posted September 15, 2014)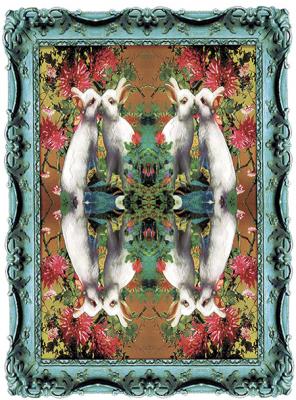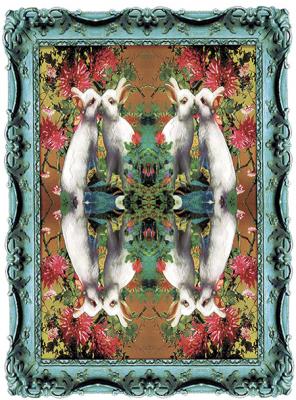 HUNTINGDON, Pa. -- If you bring together artists from a wide range of artistic disciplines with master printmakers, the result is a rich collection of works that stretch the boundaries of traditional printmaking in the Juniata College Museum of Art show "Philagrafika: 10 Years of Innovative Printmaking" which runs from Sept. 25 to Nov. 1.

There will be an opening reception for the exhibit at 5 p.m. Thursday, Sept. 25. The reception and museum exhibit are free and open to the public.

In addition there will be a talk by Rick De Coyte, a master printmaker from Silicon Gallery Fine Art Prints in Philadelphia, Pa., about Philagrafika's first decade and the artwork produced during that time, at 4 p.m., Thursday, Sept. 25, in Neff Lecture Hall in the von Liebig Center for Science.

De Coyte opened the first gallery in Philadelphia dedicated to digital art in 1993 and went on to open a digital printmaking studio in 1996. He was a founding member of the Philadelphia Print Collective and currently serves on Philagrafika's board.

The exhibit showcases Pennsylvania artists who participated in the Philagrafika Invitational Portfolio Program from 2001 to 2012. Each year since 2001, Philagrafika, a Philadelphia-based printmaking collective, has invited contemporary artists, mostly from the Philadelphia area, to work with master printers in area workshops to produce original, limited-edition prints.

In 2010, the organization put together a major international art festival, Philagafika 2010, celebrating the printed image. Held in Philadelphia, the festival staged a core exhibition "The Graphic Unconscious," that displayed the work of 35 artists from 18 countries.

Visitors to the Juniata exhibit will see work using a variety of printmaking techniques, including silkscreen, etching, lithography, and digital printing.

The Juniata College museum exhibit has collected dozens of original prints from a wide variety of Philadelphia-area artists such as Alice Oh, Virgil Marti, Dennis Lo and Candy DePew. The selections are from the dozens of artworks produced through the program. The portfolio program has been an annual event since 2001.

The work displayed at Juniata's museum shows how the program brings together artists from many different disciplines to experiment with printmaking. By working with master printers and print shops, the artists often go on to incorporate printmaking techniques into their own art.

Prints produced by the Philagrafika project are in the permanent collections of the Philadelphia Museum of Art, the Free Library of Philadelphia, the New York Public Library and the Whitney Museum of American Art.

Founded in 2000, Philagrafika is a regional collective of artists and organizations that promotes printed images in contemporary art. The organization originally was known as the Philadelphia Print Collaborative, but changed its name to Philagrafika in 2006.

The Juniata College Museum of Art is located in historic Carnegie Hall at 17th and Moore streets in Huntingdon. Museum hours are Monday through Friday, 10 a.m. to 4 p.m., and Saturday, noon to 4 p.m. For more information, please call the museum at (814) 641-3505, or visit the Juniata College Web site at http://www.juniata.edu/museum.
Contact April Feagley at feaglea@juniata.edu or (814) 641-3131 for more information.