Juniata Grant from NSF to Fund Computer Network Upgrade
(Posted September 22, 2014)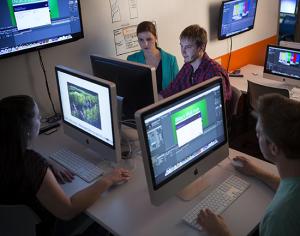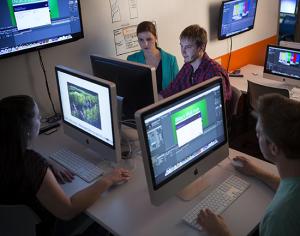 HUNTINGDON, PA. -- Juniata College received a grant for nearly $350,000 from a National Science Foundation program called Campus Cyberinfrastructure-Infrastructure Innovation and Engineering to improve its campus network infrastructure and vastly improve computer connectivity speeds in order to better serve a consortium of educational institutions working in genomics.


The grant will provide funds to buy equipment that will increase network capacity to better enable Juniata College to host a computing cluster for a consortium of small undergraduate colleges and universities. The computer cluster would serve the Genome Consortium for Active Teaching using Next-Generation Sequencing (GCAT-SEEK).

The equipment purchased to upgrade Juniata's network will enhance the performance, reliability, and predictability of access to the computing cluster for student and faculty researchers on more than 132 campuses across the United States. Students and faculty at these institutions will be able to better access modern genomics and next-generation sequencing technology through Juniata's new infrastructure.

In addition, the increased capacity and high-speed connectivity is available to the Juniata faculty and the campus community. While researchers in genomics will require the improved network to handle the massive datasets such research requires, faculty in the social sciences, humanities, business and other disciplines also will be able to use the network resources.

Specifically, some of the infrastructure improvements will include:

"The grant will provide us with financial and technical resources to create a high-speed science network and support a two-year connection to Internet2."

Anne Wood, chief information officer at Juniata.

--An increase in the capacity of the hardware supporting Juniata's Internet connection to 10 gigabytes per second. The grant initially supports an increase to 2 gigabytes per second, although the hardware will allow Juniata to eventually increase its Internet bandwidth to 10 gigabytes per second without the need for additional hardware upgrades. Typically, capacity for small businesses and educational institutions is less than 1 gigabyte per second.

--Establish a more robust connection by contracting with Three Rivers Optical Exchange, a regional network service provider that provides high-speed network access to commercial and research networks for clients in higher education, secondary education and local and state government. Through is partnership, Juniata will have access to Internet2, a educational research network by scientists in higher education, government, industry and research labs to collaborate and create using innovative technologies.

--Increase local network uplink speeds.

--Increase visibility in network performance.

--Allow an increase in the number of simultaneous users for the computer cluster.

--Allow consortium members more opportunity to participate in collaborative research through the Juniata cluster.

"The grant will provide us with financial and technical resources to create a high-speed science network and support a two-year connection to Internet2," explains Anne Wood, chief information officer at Juniata. "If access to these resources becomes a huge asset for Juniata, we would need to consider financial support absorb the costs after the grant ends to maintain our connection with Internet 2. However, our high-speed Science network will remain intact moving forward."

Juniata's grant is groundbreaking for a small, rural liberal arts college because it puts Juniata in the forefront of science computational ability. On most colleges and universities the sheer size of the datasets for genomic and genetic sequencing threaten to overwhelm campus computational resources.

Juniata's improved computational capacity brings the institution to the cutting edge of modern science education since small colleges and universities -- which provide an undergraduate education for many American scientists -- need consortiums such as GCAT-SEEK to participate in cutting-edge genomics research activities and to provide authentic research experiences to undergraduates.

In addition, Juniata anticipates that the improved network capacity will enable Juniata and other institutions to build collaborative projects not only between institutions, but also between disciplines.

"The improved computer infrastructure has the potential to stimulate research and teaching throughout the consortium, to continue to train future scientists and engineers," says Jill Keeney, professor and chair of biology at Juniata. Keeney and Loren Rhodes, professor and chair of information technology, will oversee the grant. "It also allows us to keep pace with the computational needs of the research consortium while not drawing excessively from the Internet resources available to the Juniata campus community."

In addition, Juniata's network capacity improvements will enhance undergraduate classroom teaching, as hundreds of students from multiple institutions have the potential to simultaneously use software on Juniata's computer cluster.

Currently, Juniata is sharing its model for genomics sequencing in undergraduate education to minority-serving institutions, making these opportunities more available to underrepresented populations.

"Genome science is providing new approaches and solutions to important societal problems. Researchers in this field have increased our ability to maintain an adequate food supply, monitor changes in ecosystem health, and understand origin and progression of complex diseases like cancer. Our focus on educating students in the science and societal implications of genomics will increase the number of scientists able to generate, analyze, and interpret genomic data and help pave the way toward a genomics-literate society," says Vince Buonaccorsi, professor of biology.

Contact April Feagley at feaglea@juniata.edu or (814) 641-3131 for more information.