Juniata Hosts 'Strings and Serpents,' a Musical Collaboration
(Posted October 6, 2014)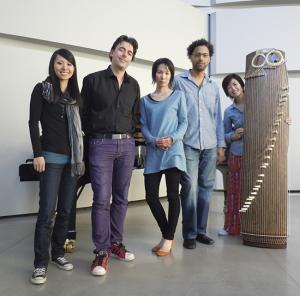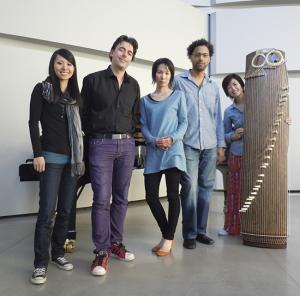 HUNTINGDON, Pa. -- Duality is at the center of Juniata College's next entertainment event as two pianists and two musicians who play the koto, a Japanese instrument, collaborate to create hauntingly beautiful music to accompany an animated film project in "Strings and Serpents" at 7:30 p.m., Saturday, Oct. 18, in Rosenberger Auditorium in the Halbritter Center for the Performing Arts on the Juniata campus.

For tickets and information about the Juniata College Presents series, please call 814-641-JTIX (5849). General admission tickets for single performances are $20, except where otherwise noted. Single-show tickets for seniors over age 65 and children age 18 and under are $12. Juniata College students are admitted free with a student ID.
The presentation of "Strings and Serpents" is made possible by support from The Japan Foundation, which is part of the Performing Arts JAPAN program.

The musical collaboration attempts to synthesize the sound of a jazz-rich piano duo comprised of Andy Milne and Benoit Delbecq, and two musicians who are virtuosos of the koto, a 13-string traditional Japanese instrument played by plucking the strings. The Japanese musicians, Ai Kajigano and Tsugumi Yamamoto, and the pianists blend traditional and modern koto music with the language of jazz and contemporary improvisation.

The music, created largely through improvisation, will accompany a 60-minute animated film created by Saki Murotani, a Waterloo, Ontario-based animator and motion graphics designer. The film is based on the Rainbow Serpent mythology and employs two-dimensional and three-dimensional computer-generated imagery, inspired by the music.

Much like the classic Disney film, "Fantasia," the four musicians expand the interaction of rhythmic forms and sonic colors as the animation tells the story visually, without dialogue or subtitles. The film experiments with color, shape, texture, light, and motion to enrich the relationship between the pianos and kotos.

The film is based on the Rainbow Serpent mythology held as sacred by aboriginal peoples in a variety of cultures. The ancient mythology sees the rainbow as a snake or serpent that functions as a creator god. The rainbow serpent typically is seen as a giver of life, but the serpent also can be destructive.

Andy Milne is a jazz musician who has recorded a variety of solo albums and collaborations. He is known for the recordings "Forward in All Directions" and "Dreams and False Alarms." In 2007, he formed a piano duo with Benoit Debecq called Crystal Magnets. The duo released an album in 2009 called "Where is Pannonica." Debecq is a native of Paris and has played with such musicians as Joe Lovano, Diane Reeves and the music collective known as M-BASE.

Ai Kajigano and Tsugumi Yamamoto are known across Asia and other international markets as TsuguKaji-KOTO, a koto duo that plays traditional as well as contemporary works. The two women play 13-string kotos, as well as 17- and 25-string instruments. The group released an album, "Katari, Uta, Koto," in 2009.

Animator Saki Murotani, originally from Asahikawa, Japan, now works in Canada as a motion graphics designer. She has screened original short films at several film festivals in Canada.

Juniata College is one of the top liberal arts colleges in the nation, specializing in experiential learning, science research and education, and personal attention for all students. Juniata offers a college experience that emphasizes a student-alumni-faculty community extending beyond graduation.
Contact April Feagley at feaglea@juniata.edu or (814) 641-3131 for more information.