Juniata College Museum of Art Honors Alumna with Solo Show
(Posted November 3, 2014)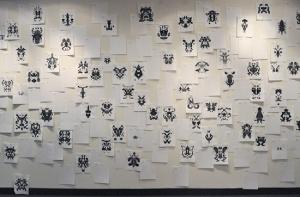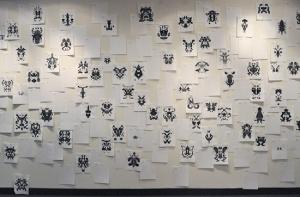 HUNTINGDON, Pa. -- Khara Koffel, a 2000 Juniata College graduate and acclaimed multimedia artist who has exhibited throughout the United States, will return to campus for an exhibition of her artwork, "every before has an after," at the Juniata College Museum of Art from Thursday, Nov. 13, through Feb. 7.

There will be an opening reception for the exhibit at 5 p.m. Thursday, Nov. 13. The reception and museum exhibit are free and open to the public.

Koffel, currently an associate professor of art at MacMurray College in Jacksonville, Ill., describes the exhibition as "conceptual," based on memories and focused on nostalgia, relationships and distance. She describes the themes in her art as meditations on, "time, distance and relationships, and the ongoing struggle of maintaining them throughout the course of a lifetime."

In her art, Khoffel constructs sculptures with materials that retain familiar images relating to her personal life and perhaps relatable to a viewer's personal life. The goal in her work is to "make an aesthetically intriguing piece (that makes) a connection with the viewer as a stimulator of ideas and memories. This becomes quite the dance, finding symbols that both reflect my personal story, yet remain vague enough to apply to a more collective past."

Khoffel incorporates family, logic and science in choosing materials for her three-dimensional art. She uses such materials as bottled breaths from her family and friends, yarn purchased by a friend, and M&M's that remind her of her grandfather's desk. She has used old records, glass birds and other found materials in her hauntingly beautiful works.

Khoffel started her art training as a ceramic artist at Juniata. When she earned an MFA at the University of Alabama, she switched her focus to sculpture and three-dimensional art.

She was hired at MacMurray College in 2004 and serves as the college's art program director and director of the Applebee Gallery on campus.

She has created solo art exhibitions of her work at McHenry College Gallery, in Crystal Lake, Ill., Lux Center for the Arts, in Lincoln, Neb., and the Schmidt Art Center, in Belleville, Ill. Koffel also has exhibited her work in shows at the Grand Rapids Art Museum in Michigan, the Indianapolis Art Center in Indiana, the Lexington Art League, in Lexington, Ky., and the Art St. Louis Gallery, in St. Louis, Mo.

The Juniata College Museum of Art is located in historic Carnegie Hall at 17th and Moore streets in Huntingdon. Museum hours are Monday through Friday, 10 a.m. to 4 p.m., and Saturday, noon to 4 p.m. For more information, please call the museum at (814) 641-3505, or visit the Juniata College Web site at http://www.juniata.edu/museum.
Contact April Feagley at feaglea@juniata.edu or (814) 641-3131 for more information.