Junior Flutist at Juniata to Perform Mozart Concerto at Fall Concert
(Posted November 10, 2014)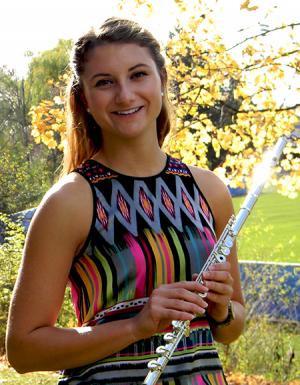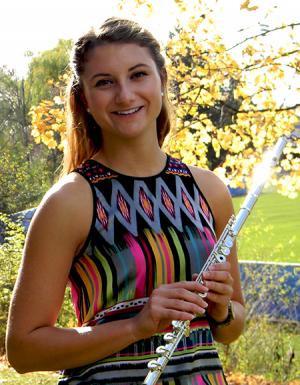 HUNTINGDON, Pa. -- Katie Jeffress, a junior from Corpus Christi, Texas and winner of the 2014-2015 Juniata College Concerto Competition, will perform "Concerto for Flute No. 1, in G Major," by Wolfgang Amadeus Mozart as part of the fall Juniata Orchestra concert at 3 p.m., Saturday, Nov. 22 in Rosenberger Auditorium in the Halbritter Center for the Performing Arts.

Tickets for the performance are $5 at the door. Children under age 18 and Juniata students with current I.D. are admitted free. The Juniata Orchestra is conducted by Benjamin Firer, lecturer in music at Juniata.

The concert will open with the solo flute performance by Fentress. The Mozart concerto is one of two the composer wrote for the flute.

Next, the ensemble will perform "Scheherazade," written by Russian composer Nikolai Rimsky-Korsakov. The work, based on the stories "One Thousand and One Nights," is one of the composer's most popular pieces. Fans of figure skating will recognize the composition, which is often used as competition music for top skaters.

From ice-skating music to "Frozen," the next selection will be "Let it Go," from the hit Disney film "Frozen."

The orchestra will tackle a classical interpretation of heavy metal thunder when they play "Lyric Metal," by American composer Brian Balmages. The composition uses orchestrations that sound like heavy metal bands. For example the cellos sound like distorted guitar, while the violins and violas play lead lines over pulsating rhythms.

Next, the group will play "Fantasia on an Original Theme," by Joseph Philips. The composition has a Celtic-flavored sound that is poignant and beautiful.

The concert closes with "Hungarian Rhapsody No. 2," by Franz Liszt. Liszt, a Hungarian composer, wrote 19 "Rhapsodies," and No. 2 is the composer's best-known composition. Listeners familiar with Disney and Looney Tunes cartoons will recognize the piece. It has been used in countless animated shorts and films.

Members of the orchestra are as follows:

Violin 1: Destiny Waller, a community member from Huntingdon Area High School; Rebekah Smith, a community member from Port Matilda, Pa.; Bernard Devlin, a junior from Media, Pa.; and Bill Bressler, a community member from Huntingdon, Pa.

Violin 2: Amber Boring, a freshman from Altoona. Pa.; Victoria Buser, a senior from Allentown, Pa.; Carl Douglas, a senior from Sioux City, Iowa; Veronica Kirchner, a sophomore from Lancaster, Pa.; Clare Lewis, a senior from Duncansville, Pa.; Alexis Morrissey, a freshman from Gibsonia, Pa.; Emily Reinl, a junior from Mechanicsburg, Pa.; Ashley Schnackenburg, a freshman from Poughkeepsie, N.Y.; and Marissa Woodman, a sophomore from Foster City, Calif.

Viola: Dayvon Grays, a freshman from, Easton, Pa.; Mike Kelley, a junior from Vienna, Va.; Erik Krueger, a senior from Maple Glen, Pa.; Kevin Schofield, a freshman from Madison, Conn.; David Welsch, a freshman from Pennsylvania Furnace, Pa.; and Chrissy Whiteman, a junior from Delmont, Pa.

Cello: Avery Cheng, a freshman from Elk Grove Village, Ill.; Casey Lapham, a sophomore from Gaithersburg, Md.; Abigail Long, a community member from Hesston, Pa.; Hannah Lutwyche, a junior from Reisterstown, Md.; and Will Thurston-Griswold, a community member from Huntingdon Area High School.

Bass: Caleb Campbell, a senior from Pine Grove Mills, Pa.; Rebecca Katz, a sophomore from Somerset, Pa.; and Brady Scales, a freshman from Mount Airy, Md.

Oboe: Linley Erickson, a junior from Chicago, Ill., and Alexandra Stroud, a junior from Ellicott City, Md.

Horn: Adam Rothstein, a sophomore from Huntingdon, Pa., and Jack Thompson, a freshman, Delmont, N.Y.
Contact April Feagley at feaglea@juniata.edu or (814) 641-3131 for more information.