Juniata's Jazz Ensemble Slates Fall Concerrt
(Posted November 18, 2014)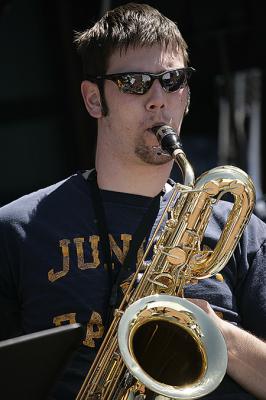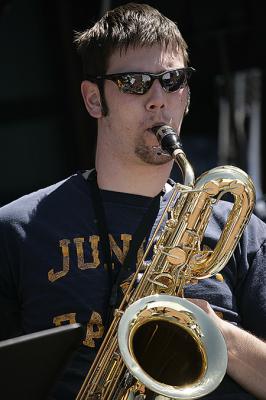 HUNTINGDON, PA. -- The big band roots of the Juniata College Jazz Ensemble will get a workout as the group plays swinging versions of works by Count Basie, Herbie Hancock and Stan Kenton at 7:30 p.m., Friday, Nov. 21 in Rosenberger Auditorium in the Halbritter Center for the Performing Arts.

Tickets for the performance are $5 at the door. Children under age 18 and Juniata students with current I.D. are admitted free. The Juniata Jazz Ensemble is conducted by Dan Yoder, lecturer in music at Juniata.

The concert opens with a Count Basie classic, "Flight of the Foo Birds," written by arranger Neil Hefti, who is best known for composing the "Batman" television theme. The piece originally appeared on the album "Atomic Basie."

From the Count to another person of jazz royalty, Duke Ellington, is the path the ensemble takes to play "Satin Doll." The song, written by Ellington and Billy Strayhorn, has been recorded countless times by big bands and vocalists such as Ella Fitzgerald, Sarah Vaughn and Frank Sinatra.

Herbie Hancock, a contemporary jazz composer, contributes two of his most famous compositions, "Watermelon Man" and "Cantaloupe Island." "Watermelon Man" was a pop hit for bongo drummer Mongo Santamaria, and "Cantaloupe Island" was written when Hancock was a member of trumpeter Miles Davis' 1960s quintet.

Another standard, "Autumn Leaves," which is well known as a song with lyrics by Johnny Mercer, will be treated as an instrumental for the Juniata ensemble. Such artists as Jo Stafford, Nat King Cole and Eric Clapton have recorded the song.

Jazz influences will trend younger with the next selection, "Sesame Street," The television show's theme was arranged by former big band trumpeter and jazz educator Maynard Ferguson.

"Can't Help Lovin' That Man," is a Broadway classic written for the musical "Showboat." Written by Jerome Kern and Oscar Hammerstein, the song has been recorded by countless jazz singers and many different instrumental jazz groups.

Pittsburgh native Sammy Nestico, who was a big band arranger for Count Basie and played trombone for bandleaders Woody Herman, Tommy Dorsey and Charlie Barnet, wrote the Jazz Ensemble's next selection, "Brasilia." "Brasilia" is written as a bossa nova composition.

The concert will end with the powerful "Another Shade of Blue," written for the Stan Kenton Big Band. Alto saxophonist Lee Konitz is perhaps best known for playing the song as a soloist.

The fall 2014 Juniata College Jazz Ensemble members are as follows:

Flute: Alex Debrecht, a senior from Winston-Salem, N.C.

Alto Sax: Carly Hafer, a sophomore from Greencastle, Pa., and Kyle Kister, a senior from Somerset, Pa.

Tenor Sax: Kate Bock, a sophomore from Warriors Mark, Pa.

Bari Sax: Brian Gilbert, a senior from Stroudsburg, Pa.

Trombone: Frank Conese, a community member from Huntingdon, Pa.

Trumpet: Axel Jessin, a freshman from, Austin, Texas, and Brandon Leckemby, a senior from Somerset, Pa.

Drums: Nikhil Bhatnagar, a senior from Sterling, Va.; Taylor Hohenstein, a sophomore from Charlottesville, Va.; and Dane Sapienza , a freshman from Mcdonald, Pa.

Bass: Alexandra Stoudt, a sophomore from Fleetwood, Pa.
Contact April Feagley at feaglea@juniata.edu or (814) 641-3131 for more information.