Can't Be Beat: Juniata Percussion Ensemble Sets Concert
(Posted November 24, 2014)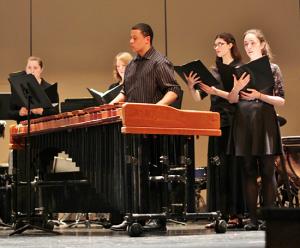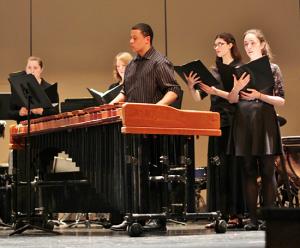 HUNTINGDON, Pa. -- Audience members will be getting good vibrations from the assorted percussive instruments played by Juniata College musicians as the Percussion Ensemble performs its fall concert at 7:30 p.m., Thursday, Dec. 4, in Rosenberger Auditorium in the Halbritter Center for the Performing Arts on the Juniata campus.

Tickets for the performance are $5 at the door. Children under age 18 and Juniata students with current I.D. are admitted free. The Juniata Percussion Ensemble is conducted by Jim Latten, professor of music at Juniata.

The Percussion Ensemble will open the concert performing "Salonika Peppers," by Murray Houllif, a renowned percussion composer best known for his teaching career at the University of North Texas.

The Keyboard Percussion Choir will perform next, playing "Sleep," by Eric Whitacre. The original composition was composed for choir, although the instrumental arrangement has been used by percussion ensembles and concert bands throughout the United States.

Next the keyboard percussionists will play "Minus Nine," by David Madeira, a composer and percussionist who teaches music at Belmont University in Nashville, Tenn. The title refers to a rating for an oceanic low tide. The percussionists will be accompanied by Juniata's String Quartet.

The Percussion Ensemble returns, performing "Jazzville, U.S. A.," also written by Murray Houllif, and "Portico," by Tom Gauger. Gauger was a percussionist in the Boston Symphony and Boston Pops from 1963 to 2008. "Portico" is written for 10 percussionists and is known for its interweaving rhythms.

The musical ensembles will break for what director Jim Latten calls, "World Percussion Lab," where Juniata musicians will demonstrate soloing, drum techniques and hand drumming.

The finale of the concert will feature Steely Pan and the PVCs, Juniata's PVC Pipe Ensemble. The instruments played are plumbing pipes of varying lengths. The selections for the program are: "Under the Sea," from "The Little Mermaid;" Kiss the Girl," also from "Little Mermaid;" "Limbo," better known as the pop hit "Limbo Rock;" "Trepak," by Pyotr Tchaikovsky, better known as the "Russian Dance" from "The Nutcracker;" and "Christmas Set," which is a medley of holiday songs.

The members of the Percussion Ensemble are as follows: Nikhil Bhatnagar, a senior from Sterling, Va.; Matt Brumbaugh, a junior from Pen Argyl, Pa.; Christina Estright, a sophomore from Norristown, Pa.; Jonathan Geyer, a sophomore from Newport, Pa.; Elisabeth Hamme, a freshman non-degree student from Lebanon, Pa.; Taylor Hohenstein, a sophomore from Charlottesville, Va.; Rebecca Katz, a sophomore from Somerset, Pa.; Kristine Pham, a sophomore from Harrisburg, Pa.; Katya Rebman, a senior from Elizabethtown, Pa.; Emily Reinl, a junior from Mechanicsburg. Pa.; Dane Sapienza, a freshman from McDonald, Pa.; Bethany Slaughter, a sophomore from Mt. Airy, Md.; Stephen Spruell, a junior from Friedens, Pa.; Melissa Topping, a junior from Harrisburg, Pa.; and Emily Zimmerman, a sophomore from Ephrata, Pa.
Contact April Feagley at feaglea@juniata.edu or (814) 641-3131 for more information.