Special Topics Courses Offer Deeper Dive into Subjects
(Posted November 24, 2014)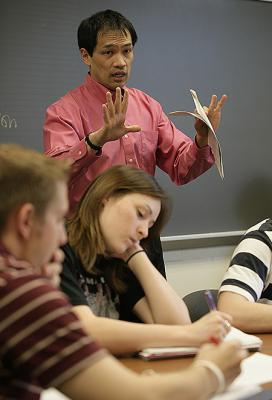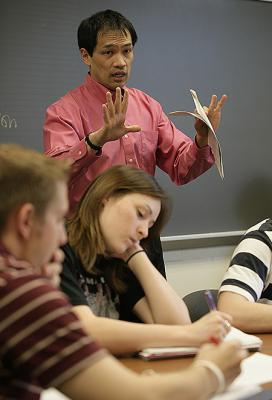 HUNTINGDON, Pa. -- College students across the nation know of classes like "Survey of Western Art" or "Introduction to American Politics," but sometimes students and their professors want to drill down into the subject matter. At Juniata College, that means taking a special topics class.
A special topics course allows a professor, and students, to focus his or her attention on one aspect of the material such as "Medieval Medicine" or "The Ancient Egyptians."

"Public History" was a special topics course taught by David Hsiung, Charles R. and Shirley A. Knox Chair of History, that has now made it into the full-time curriculum. " 'Public History' is a course that looks at history outside of the classroom -- history as it's presented in museums, national parks, historic sites or homes, and documentary films," says Hsiung, "It's about how history is represented to the public, and the special concerns that you, as a historian, have to be aware of."

The official process of getting a special topics class on the books is pretty simple. The professor first has to have an idea -- a creative idea that generates interest and a sense of uniqueness. Professors do not have to go through Juniata's official class approval process to get the course into the full-time curriculum. Instead, in order to give it a test run, he or she simply proposes the idea to their academic department as a special topics class.

"If everyone in the department agrees to it," says Hsiung, "then I literally write the proposal in onto a printout that the department eventually submits to the Registrar's office as it creates the schedule to go on the web."

The evolution of a special topics course differs from professor to professor and department by department. Hsiung wanted to break down his "American Revolution" course into one, specific time period as a way to narrow his students' focus, coming up with a course called "1776." Generally, the idea must be approved by the department chair but, Hsiung says, "It's an internal thing for the most part; we often give our colleagues the benefit of the doubt. In the history department, it's really more consensus."

"If it's a writing course, then that's not something that just the history department can decide. This is something that must meet a college requirement rather than a departmental requirement."

David Hsiung, Knox Professor of History

If the course becomes popular, the professor can opt to have it become part of the college's curriculum. Professors must submit a proposal to the Curriculum Committee. The committee only gets involved in the process of special topics classes for two reasons:

--When a professor wants to make it an official course after the special topics class has been offered no more than three times.
--When a special topics course is considered as an official required credit or part of a special skill.

"If it's a writing course, then that's not something that just the history department can decide," says Hsiung, "This is something that must meet a college requirement rather than a departmental requirement."

The wide range of special topics classes at the college represents the variety of learning opportunities liberal arts students get to experience. In the past, there have been special topics classes in the biology department such as "Animal Behavior" and "Botany." Caitlyn Pingatore '15 says, "When I was a freshman I took 'Marine Biology,' which was a really neat special topics class where we explored different parts of the ocean and marine life in a way that other science courses did not offer."

More recently, the chemistry department added "X-Ray Crystallography" to the list. Richard Hark, professor of chemistry, says the course is "to take advantage of our recent acquisition of a single crystal X-ray diffractometer."

The chemistry department has been through the process before, however. "Last spring, I enrolled in a special topics class called 'Applied Water Chemistry,'" says Arielle Maines '15, "I took it because I love chemistry, but I also knew this course would allow me to become familiar with the many different types of chemistry that exist out there."

In the spring of 2015, the math department will take the lead with "Bayesian Statistics," which is taught by Kim Roth, associate professor of mathematics. "'Bayesian Statistics' is a modern technique that is often used in the sciences and is based on the idea of prediction based on prior knowledge," says Roth, "I think the students will really benefit from exposure to a technique based on a different notion of probability than the introductory course."

Overall, special topics classes, as the name implies, allow students to sharpen their focus on more specific subjects of interest. Special topics courses leave students with a deeper connection to a topic and offers students the opportunity to really immerse themselves in learning.

By Laura Bancroft '15

Contact April Feagley at feaglea@juniata.edu or (814) 641-3131 for more information.