Juniata Senior Builds Hut Shelter as Part of Research Project
(Posted November 24, 2014)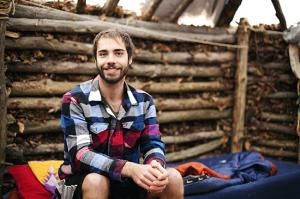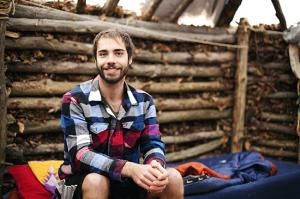 College has always been the place where you find an interest or a path or a career. Put simply it's a place where you find your place in the world.

As it turns out, Dylan Miller's place in the world is in a no-frills, low-thrills, high-chills unheated structure deep in the woods in Juniata College's 315-acre Baker-Henry Nature Reserve near the college's Peace Chapel and he couldn't be happier.

Miller '15, of Meadville, Pa., is currently living out an ambitious capstone research project designed to earn his degree in English and philosophy. The project seeks to take him out of the classroom and into a senior year devoted to the minimalist lifestyle. Simply put, and Miller strives for simplicity, he is currently living in a structure he built himself using nothing but wood, leaves and branches and one tarp. He plans to eat most of his meals and sleep in the Spartan structure throughout this semester and spring semester. He even prepared for his project by living in a cave during spring semester 2014.

The living quarters Miller constructed would scare the living daylights out of a student who demands every creature comfort within arm's reach, but the one-room shelter, which resembles a Native American hogan in size and design, is "quite cozy," according to its designer/builder.

Miller used all found materials within the nature reserve to construct the shelter, using downed pine trees and using dead leaves to provide insulation and warmth. He started building the structure in June 2014 and finished on Aug. 20 -- in time for the first day of classes.


"This is what I've always wanted to do and I also want to leave a positive impact and benefit others. Instead I want to live as an example, even if it's an extreme example."

Dylan Miller, senior, Meadville, Pa.
He's so serious about this vision that he wrote a 21-page proposal to his advisers -- Will Dickey, assistant professor of English, and Wade Roberts, assistant professor of philosophy -- and created a reading list that includes Thoreau, Emerson, Aldo Leopold and a Buddhist text called "The Dhammapada."

"I wanted them to know I wasn't some kid who saw 'Into the Wild' and decided to give it a try," Miller says. "I have given this a lot of thought and I have some experience with (the lifestyle)."

This year he will write a journal documenting his lifestyle through fall semester and spring semester. He then will use his own writings as a window into understanding the writings of H.D. Thoreau, Ralph Waldo Emerson and other authors and philosophers.

The interior of the shelter as about nine feet tall and 17 feet by 17 feet square. He brought in some old oak planks he found in a friend's barn for flooring and constructed bookshelves and a desk using more planks and ceramic chimney liners. He brought a cot from home and an oil lantern. He cooks mostly canned good and various grains and rice.

Although Miller's living accommodations are spare, he does receive visitors. Several students have braved overnight stays and during the weekend of Oct. 11-12, a black bear dropped by. "She tipped over the portable toilet and tried to get it open," Miller says. "You can see the teeth marks. I keep all my food in airtight coolers and I made a little fire pit with bricks and a grill top I found in a junkyard."

Miller hopes to use his research paper as a path to graduate school to earn a doctorate in Buddhist philosophy, his academic purpose is different. "I think the project is more directly related to my past," he says. "This is what I've always wanted to do and I also want to leave a positive impact and benefit others. Instead I want to live as an example, even if it's an extreme example."

Contact April Feagley at feaglea@juniata.edu or (814) 641-3131 for more information.