Juniata Theatre Students Stage 'A Christmas Carol' Reading
(Posted December 8, 2014)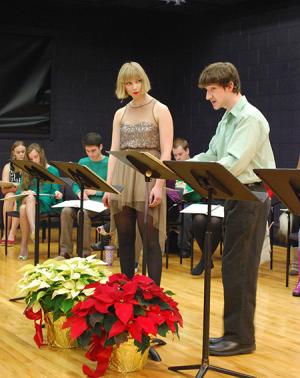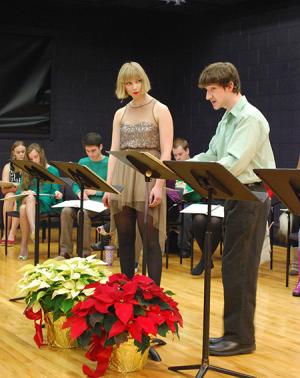 HUNTINGDON, Pa. -- Tiny Tim is back as Juniata College Theatre Department stages their traditional reading of one of Charles Dickens' most celebrated plays, "A Christmas Carol," at 7:30 p.m., Saturday, Dec. 13, in the Suzanne von Liebig Theatre on the Juniata College campus.
Donations are accepted and all proceeds will benefit JC Blair Memorial Hospital.

"A Christmas Carol" is a well-known holiday tradition that tells the tale of Ebenezer Scrooge -- a grumpy old man whose bitterness and reluctance to help the less fortunate has given him a bad reputation -- until he is visited by the ghosts of Christmas past, present, and future, who help Scrooge discover his true holiday spirit.

"A Christmas Carol: The Reading" will last approximately one hour to accommodate families with young children and to keep the attention of the audience throughout the piece. As an added attraction, campus celebrities will be joining in on the festivities including Lauren Bowen, provost at Juniata, James Lakso, provost emeritus, and James Troha, president, who will be reading the part of Tiny Tim.

Staging a reading is different from staging a typical play. "The 'trick' is to get past the attitude of reading, which sounds robotic and un-invested," says Neal Utterback, assistant professor of theatre arts, "If you just read what's on the paper, it's easy for people to phase out. But, if the energy is invested to a rigorous degree, if the voice is used to paint colors and savor the words, then an audience can be transported."

The cast will be wearing simple "festive attire" according to Utterback -- nothing too adventurous, but just enough to spread holiday cheer and bring people together. This particular reading is less about overall appearance, but more about the community coming together to kick off the holiday season with a classic.

"A Christmas Carol" is a story about redemption and forgiveness, yes, but also giving and generosity," says Utterback, "Since the reading is ultimately designed to raise money for JC Blair Memorial Hospital, the themes are relevant. I am deeply grateful for everyone's involvement and I want to make sure I do my best to respect everyone's time and energy, while also maximizing that time and energy to the greatest benefit -- namely, raising money for J.C. Blair and giving the audience a great show."
Contact April Feagley at feaglea@juniata.edu or (814) 641-3131 for more information.