New Orleans 'Second Line' Masters, Hot 8 Brass Band, Headline at Juniata
(Posted January 19, 2015)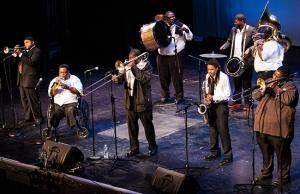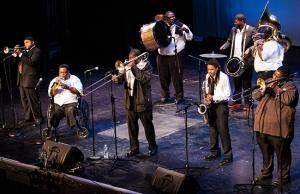 HUNTINGDON, Pa. -- Do you know what it means to hear New Orleans? Concertgoers at Juniata College will experience the Hot 8 Brass Band, a traditional "second line" instrumental group well versed in the art of New Orleans street music, at 7:30 p.m., Saturday, Jan. 24, at Rosenberger Auditorium in the Hallbritter Center for the Performing Arts on the Juniata campus.

For tickets and information about the Juniata College Presents series, please call (814) 641-JTIX (5849). General admission tickets for single performances are $20, except where otherwise noted. Single-show tickets for seniors over age 65 and children age 18 and under are $12. Juniata College students are admitted free with a student ID.

"Second Line" brass bands are a staple of New Orleans culture. Traditionally, at funerals in the iconic Louisiana city, funeral processions would take to the streets to deliver the deceased to the cemetery. The "first line" of the procession would be comprised of family, friends and business associates, followed by a "second line" of musicians who accompanied the procession.

The music of second line bands can be mournful (on the way to the cemetery) or joyful (on the trip back from the cemetery) and sometimes both at once. The musicians in second line bands typically play brass instruments, and there are many such bands, both professional and amateur, putting the soul into any Big Easy event -- funerals or otherwise.

Every member of the Hot 8 Brass Band was born and raised in New Orleans. The eclectic backgrounds of each member allows the band to mix in jazz, funk and hip-hop seasonings to the traditional gumbo of music played by such groups.


"(Hot 8 Brass Band has) the strut of Crescent City brass with funk and hip-hop, while offering tart commentary on their beleaguered home town."

The Guardian
The band came to prominence for its charitable work for the victims of Hurricane Katrina and for an iconic appearance in the documentary film "When the Levees Broke," directed by Spike Lee. The band had recorded several albums, including "Rock With the Hot 8" and "The Life and Times of the Hot 8 Brass Band." They also collaborated with the gospel group, the Blind Boys of Alabama, on the album "Down in New Orleans."

Members of the Hot 8 include" Bennie Pete, tuba; Terrell Batiste, trumpet; Harry Cook, bass drum; Edward Jackson, trombone; Samuel Cyrus, snare drum; Raymond Williams, trumpet; Gregory Veal, trombone; and John Gilbert, saxophone.

The band also has been featured in the HBO television series about New Orleans, "Treme," and has performed with such artists as Lou Reed, Dr. John and jazz trumpeter Nicolas Payton.

A music critic in the British newspaper The Guardian wrote the band infuses "the strut of Crescent City brass with funk and hip-hop, while offering tart commentary on their beleaguered home town."

Contact April Feagley at feaglea@juniata.edu or (814) 641-3131 for more information.