Bailey Oratorical Contest Sets Slate of Contestants for March 3
(Posted February 24, 2015)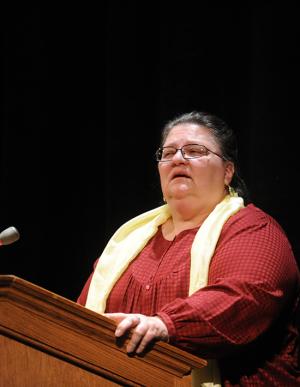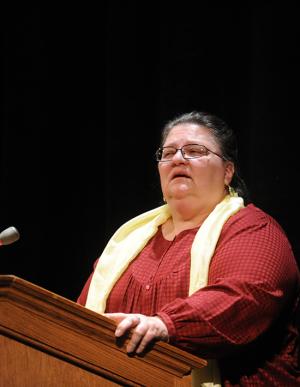 HUNTINGDON, Pa. -- Seven Juniata College orators will compete in the hope their oratory is soaring enough to make the case that Juniata can improve upon its distinctiveness in higher education at the annual John M. and Thomas F. Bailey Oratorical Contest, to be held at 7:30 p.m., Tuesday, March 3, in the von Liebig Theatre in the Halbritter Center for the Performing Arts on the Juniata campus.

Admission is free and the event is open to the public.

The oratorical contest this year takes inspiration from the question: How can we enhance Juniata's distinctiveness today and ensure its success in the future?

A preliminary competition was held Saturday, Feb. 21, to narrow the field of 30 student participants. Seven finalists are judged and will take part in the final competition.

The seven finalists are seniors Maverick Force, of Narvon, Pa., Colton Hallabuk, of Towanda, Pa., James Imbrie, of Bethel Park, Pa., Coleman Rigg, of Bellefonte, Pa., Natasha Lane, of Huntingdon, Pa.; junior Ryan Shelton, of Baldwinsville, N.Y.; and sophomore Julia McMurray, of Kensington, Md.


The oratorical contest this year takes inspiration from the question: How can we enhance Juniata's distinctiveness today and ensure its success in the future?
The judges for the preliminary competition were Emilee Spokus, a 2007 Juniata graduate and a multimedia specialist at Penn State University's main campus.; Janelle Smith, a 2011 Juniata graduate from Harrisburg, Pa., and bakery manager at Paulus orchards; and Shawn MacDonald, a 2008 Juniata graduate and sales director at HealthyWorks LLC, in Pittsburgh, Pa..

The three judges for the March 3 final will be:

--Carol Hermann, vice president for marketing, administration and communication at Kish Bank and CEO of subsidiary Kish Travel. Before joining Kish Bank, Hermann had a distinguished career as a senior administrator at Penn State University, where she retired as senior vice president for administration emerita. After retiring at Penn State, she served as president of Pinnacle Development LLC, which oversees the development of The Village at Penn State Life Care community. She earned a bachelor's degree at Bucknell University and went on to earn a master's degree in journalism from Penn State.

--Jennifer Lewis, associate director of international programs at Earlham College, in Richmond, Ind. She has worked at Earlham from 2002 to the present. In addition to her administrative duties, Lewis teaches public speaking courses at Earlham College and Indiana University. She is a 1997 Juniata graduate, and went on to earn a master's degree in communications studies/rhetoric from the University of Montana. She also taught as an adjunct faculty member at Juniata College from 2000 to 2002.

--Chris Scalia, vice president of talent for The Hershey Co. in Hershey, Pa.. Scalia, a 1998 Juniata graduate, is responsible for all aspects of Hershey's global talent strategy, including talent management, organizational learning, executive development and enterprise capabilities. He started at Hershey in 2005 as labor counsel, becoming director and lead counsel for global labor and employment from 2007 to 2011. From 2011 to 2013, Scalia was senior director, and then vice president, in Hershey's human resources group. He was an associate with the law firm Morgan Lewis & Bockius. He also was the 1998 winner of the Bailey Oratorical Contest and earned a law degree in 2001 from Penn State's Dickinson School of Law

The prize money for the Bailey Oratorical Contest totals $1,800. The first-place winner receives $1,000, second place receives $500, and third place receives $300.

The original Bailey Oratorical Award was established in 1910 by Letitia Fisher Bailey and the Honorable Thomas F. Bailey, who served as president judge of Huntingdon County from 1916 to 1936. The contest is named in honor of John M. Bailey, the father of Thomas Bailey, and a former Huntingdon County president judge.

The oratorical contest has a long tradition at Juniata College, as students from all areas of study can compete for the monetary prize. The original prize for the contest was $15 and $25. An enhanced endowment contribution by Judge Bailey's son-in-law Colonel Sedgley Thornbury, provides the contest's prize money. In addition, the name of the winner will be permanently inscribed on an antique loving cup presented to the college by Colonel Thornbury's son, Thomas Bailey Thornbury.

Contact April Feagley at feaglea@juniata.edu or (814) 641-3131 for more information.