Modern Moves: Mark Morris Dance Group Performs at Juniata College
(Posted September 8, 2015)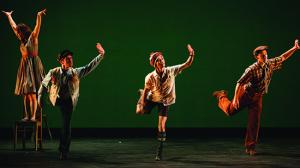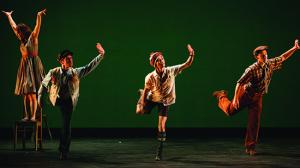 HUNTINGDON, PA. -- The Mark Morris Dance Group, a groundbreaking artistic ensemble noted for technically-dazzling-yet free-flowing choreography and the use of humor and eclectic musical choices in its dances, will perform three acclaimed works, "Words, A Wooden Tree, Grand Duo" at Juniata College at 7:30 p.m., Friday, Sept. 18, in Rosenberger Auditorium in the Halbritter Center for the Performing Arts.

For tickets and information about the Juniata College Presents series, please call (814) 641-JTIX (5849). General admission tickets for single performances are $20, except where otherwise noted. Single-show tickets for seniors over age 65 and children age 18 and under are $12. Juniata College students are admitted free with a student ID.

Mark Morris formed the dance troupe in 1980, at age 24. The wunderkind choreographer soon made a splash nationally by featuring dancers, including himself, whose body types and dance styles did not conform to classic ideals. He also is adamant that dance should be performed to live music, a tradition that will continue at the Juniata performance.

"Words," set to 18 selections of Felix Mendelssohn's "Songs Without Words," pairs very simple and stripped-down movements with the musicality of Mendelssohn's classical songs. The performance has been described as inspired by playground games that bring a comedic touch to the dance.

"The piece's charm lies in its odd choices of simple-seeming movements and in its range of rhythmic accentuations within apparently innocent meters," wrote a dance critic for the New York Times.


"The choreography illustrates these situations with pantomime and jaunty country dances, with hooking arms, skipping steps and thigh-slapping."

Newark Star-Ledger.
"A Wooden Tree" uses colloquial dances such as square dancing, line dancing and nursery rhyme rhythms to illustrate the somewhat obscure songs of the late Scottish performer Ivor Cutler. The dances are performed to such Cutler songs as "I Got No Common Sense," "Stick Out Your Chest" and "I Love You But I Don't Know What I Mean." The dances in this touching piece combine humor, pathos and sadness -- something of a Morris signature.

"The choreography illustrates these situations with pantomime and jaunty country dances, with hooking arms, skipping steps and thigh-slapping," wrote a critic in the Newark Star-Ledger.

"Grand Duo" unfolds much like the climactic structure of Ravel's "Bolero," as the company opens with yoga moves and tai chi-like air gestures and builds in intensity until the entire cast of dancers are twirling in ecstatic circles on the stage. "Its propulsive, folk-dance score by Lou Harrison for violin and piano…is underpinned by meditative mystery but finishes with an exhilarating sensory rush," writes Sarah Kaufman, dance critic for the Washington Post.

Morris is a native of Seattle, Wash., and he started as a dancer in the companies of Lar Lubovitch, Laura Dean and Eliot Feld. He also was director of dance at the Theatre Royal de la Monnaie in Brussels, Belgium from 1988 to 1991. In 1990, Morris founded the White Oak Dance Project with dance superstar Mikhail Barishnikov.

In addition to his work with his own troupe, Morris has created nearly 20 ballets for a variety of international companies. In 1991 he was named as a Fellow for the MacArthur Foundation. The Mark Morris Dance Group currently has 18 dancers in the ensemble. The Mark Morris Music Ensemble, which provides live backing for many of the choreographer's works, has more than 30 members, including Colin Fowler, artistic director.

Contact April Feagley at feaglea@juniata.edu or (814) 641-3131 for more information.