Juniata Rated Highly in U.S. News and Forbes.com Rankings
(Posted September 9, 2015)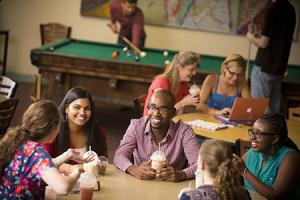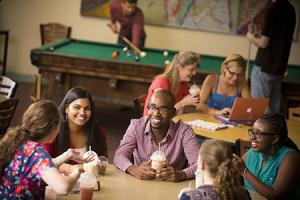 HUNTINGDON, Pa. -- Juniata College has been rated highly for the enthusiasm of its graduates by Forbes.com, which rated Juniata 108th in its "Grateful Graduates Index: Top ROI Colleges," a ranking for return on investment based on how many private donations per student are given to the institution in a given year.

The institutions rated just above Juniata are Queens University of Charlotte (N.C.) (107th), Ohio Wesleyan University (106th), St. John's University, in Staten Island, N.Y. (105th), Cornell College, in Mount Vernon, Iowa (104th), and Sarah Lawrence College in Bronxville, N.Y. (103rd). Juniata ranked 133rd in last year's poll and 178th in the 2013 poll.

"Colleges and universities are rightly concerned with how they rank among their competitors and the more favorable rankings an institution acquires is an advantage in a very competitive marketplace," says James A. Troha, president of Juniata College.

Juniata was ranked at No. 179 in Forbes.com's America's Best Colleges ranking. Juniata is one of 650 colleges and universities nationwide to be rated in the Forbes.com rankings. There are more than 1,500 four-year colleges and universities nationwide.

In other rankings publications, Juniata rose to 89th in Washington Monthly's larger Best Liberal Arts Colleges poll. Last year Juniata was ranked 101st.


"National rankings are essentially endorsements from experts in higher education. Increasingly, these national polls are focusing on affordability and student debt, which has helped Juniata become more prominent in many rankings."

James A. Troha, president, Juniata College
The colleges just above Juniata in the Washington Monthly rankings are: Calvin College, in Grand Rapids, Mich. (88th); Dickinson College, in Carlisle, Pa. (87th); University of Hawaii-Hilo (86th); and Kenyon College, in Gambier, Ohio.

In the U.S. News & World Report 2016 Rankings, Juniata College was named as an "A+ School for B Students" among national liberal arts colleges. In the overall U.S. News & World Report Rankings released today, Juniata maintained its 105th ranking in the Top Liberal Arts Colleges in the magazine's annual poll.

U.S. News' "A+ Schools for B Students" rankings come from two values: the institution's performance in the last U.S. News poll and the college's average freshman retention rate.

Juniata is one of six colleges from Pennsylvania to be included in the "A+" rankings. The others are Allegheny College, Grove City College, Muhlenberg College, Susquehanna University and Ursinus College.

Juniata shares its 105th national ranking with two other institutions: Augustana College in Rock Island, Ill.; and St. Michael's College, in Colchester, Vt.

Other Pennsylvania colleges in the U.S. News Top 100 are: Swarthmore College (3rd); Haverford College (12th); Bryn Mawr College (25th); Bucknell University (32nd); Lafayette College (37th); Dickinson College and Franklin & Marshall College (40th); Gettysburg College (48th); Muhlenberg College (72nd); Allegheny College (72nd); Ursinus College (93rd); and Washington & Jefferson College (100th).

"National rankings are essentially endorsements from experts in higher education," Troha says. "Increasingly, these national polls are focusing on affordability and student debt, which has helped Juniata become more prominent in many rankings."

In the relatively new "Money's Best College's," collated by Money magazine, Juniata ranked 399th out of 736 institutions rated nationwide.
The Money rankings were collated using 21 factors in three equally weighted categories: educational quality, affordability and alumni earnings collated from PayScale.com. The rankings also include a "Value Added" grade designed to consider how well students at each school did, in contrast to what would be expected given economic and academic backgrounds and the institution's mix of majors. Money magazine's focus on affordability takes into account merit aid, student and parent borrowing, length of time needed to graduate, tuition increases, and other measures

Additionally, Juniata also was included in the "Fiske Guide to Colleges 2016," one of more than 300 institutions rated by the prestigious guide. Juniata also remains one of just 40 colleges featured in the recently updated and overhauled college guidebook "Colleges That Change Lives," by a former New York Times education editor, the late Loren Pope. The new edition is by Hilary Masell Oswald.

Finally, Juniata was chosen as one of the nation's best institutions for undergraduate education, according to the Princeton Review, the New York-based company known for its education, admission and test-prep services. Juniata was selected for the Princeton Review annual college guide "The Best 380 Colleges."

According to guidelines established by the Carnegie Foundation and adopted by U.S. News, institutions that award at least 50 percent of their undergraduate degrees in liberal arts are defined as liberal arts schools.

Contact April Feagley at feaglea@juniata.edu or (814) 641-3131 for more information.