Fall Concert: Juniata Orchestra to Play Beethoven
(Posted November 16, 2015)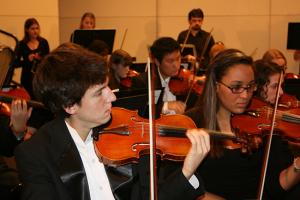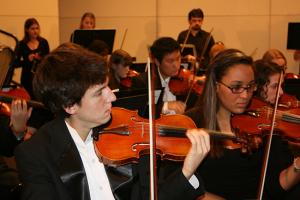 HUNTINGDON, Pa. -- Music from the greatest composers and one great wizard will be featured in the Juniata College Orchestra concert at 3 p.m., Saturday, Nov. 21, in Rosenberger Auditorium in the Halbritter Center for the Performing Arts on the Juniata campus.

Tickets are $5, with children under the age of 18 getting in free. Juniata students with valid ID also can attend for free. The orchestra will be conducted by Benjamin Firer, an instructor in music at Juniata and the music director for the Pennsylvania Youth Orchestra and assistant conductor for the Pennsylvania Centre Orchestra.

The ensemble will perform "Homage March from 'Sigurd Jorsalfar,'" by Norwegian composer Edvard Grieg. The composition has been described as "heroic."

"Kuolema (Death): Valse Triste" is written by Jean Sibelius, a Finnish composer (1865-1957). The phrase "Valse Triste" means "Sad Waltz." Sibelius is probably best known for his symphony "Finlandia."

The selection "Csárdás," by Vittorio Monti, is based on Hungarian folk music. Juniata student Claire Cohen, a freshman from Philadelphia, Pa., will perform a violin solo. Composer Monti was a famed Italian violinist who originally composed the piece for violin. He lived from 1868 to 1922.

The orchestra also will explore "Selections from 'The Merry Widow,'" by Franz Lehar. Lehar, a Austro-Hungarian composer (1870-1948) was most well known for his operettas. "The Merry Widow," is still performed and revived today by opera companies.

Pop culture enters the concert when the ensemble performs "Harry Potter and the Goblet of Fire," by Patrick Doyle and John Williams. John Williams is perhaps the most well known film composer of the modern era, scoring such films as the "Star Wars" trilogy," "Jaws," the "Indiana Jones" films, and "E.T."

The orchestra will perrform "Finale from Serenade for Strings," by Pyotr Ilyich Tchaikovsky. The Russian composer created four movements : Pezzo in forma de sonatina; vlase; elegie; and finale. The composition was written in 1880.

Members of the orchestra are as follows:

Violin 1: Claire Cohen, a freshman from Philadelphia, Pa.; Sophie Bell, a freshman from Lewisburg, Pa.; Ashley Schnackenburg, a sophomore from Poughkeepsie, N.Y.; and Rebecca Murgo, a freshman from Duncansville, Pa.


Violin 2: Emily Reinl, a senior from Mechanicsburg, Pa.; Veronica Kirchner, a sophomore from Lancaster, Pa.; Evan Quinter, a freshman from Allentown, Pa.; Mary Boggs, a freshman from Bel Alton, Md.; Amber Boring, a sophomore from Altoona, Pa.; Abigail Ihnat, a freshman from Irwin, Pa.; Aubrey Wareham, a freshman from Mercersburg, Pa.; Nicki Leiby, a freshman from Spring Mills, Pa.; and Bill Bressler, a community member from Huntingdon.

Viola: Mike Kelley, a senior from Vienna, Va.; Shayla Fitzsimmons, a freshman from Fort Loudon, Pa.; Ellie Rice, a senior from Gettysburg, Pa.; Kevin Schofield, a sophomore from Madison, Conn.; David Welsch, a sophomore from Pennsylvania Furnace, Pa.; and Kylie Dunham, a freshman from Harrisburg, Pa.

Cello: Hannah Lutwyche, a junior from Reisterstown, Md.; Abigail Long, a community member from Hesston, Pa.; and Emily Stinson, a freshman from Wind Gap, Pa.

Bass: Brady Scales, a sophomore from Mount Airy, Md., and Sarah Wilt, a freshman from Elverson, Pa.
Contact April Feagley at feaglea@juniata.edu or (814) 641-3131 for more information.