Step ti It: Darrah Carr Dance Presents a Gaelic Christmas Show
(Posted November 23, 2015)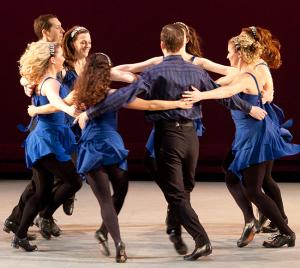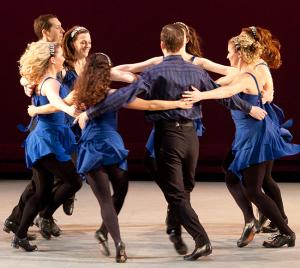 HUNTINGDON, Pa. -- The joyful rhythms of Irish step dancing will complement a mix of modern dance moves and Irish Christmas carols, as Darrah Carr Dance, brings "Ceiliuradh Na Nollag: A Christmas Celebration" to Juniata College at 7:30 p.m., Friday, Dec. 4, in Rosenberger Auditorium in the Halbritter Center for the Performing Arts.

For tickets and information about the Juniata Presents series, please call (814) 641-JTIX (5849). General admissions tickets for single performances are $20, except where otherwise noted. Single-show tickets for seniors over age 65 and children age 18 and under are $12. Juniata College students are admitted free with a student ID.

The dance company's program creates dances honoring the Winter Solstice and the Christmas holidays. In addition to classic step dancing, the company interweaves the intricate patterns of Ceili dancing such as the "brush dance" and "Wren Boys Procession."

The dancers will perform to Irish Christmas carols, such as "Christmas in Killarney," "The Holly and the Ivy," "Wexford Carol," "Greensleeves," "The Wren Song" and many others. Music is provided live by two musicians.

Darrah Carr Dance mixes modern dance sensibility with the intricate step footwrk of classic Irish dance, a mix she calls "ModErin." (It mixes the words "modern" and "Erin," an Irish-American term for Ireland.)


"The dancing of the troupe is sufficiently beguiling: lusty and luscious where appropriate, elsewhere as light, calm, and carefree as the early spring breeze."

The Village Voice
"I feel two pulls," says Carr. "One toward tradition and another toward innovation, and I seek to create dance in the space between."

Many Irish dances began as performances at crossroads and Carr searches out the intersections of dance styles that will best honor the ancient rituals associated with Celtic Dance while dazzling audiences.

Irish dance, for those unfamiliar with the genre, features dancers dressed in traditional costumes and holding their arms and torso motionless while their feet and legs fly in furious rhythm.

According to a critic for the Village Voice, "the dancing of the troupe is sufficiently beguiling: lusty and luscious where appropriate, elsewhere as light, calm, and carefree as the early spring breeze."

Carr also performs with her step dancing partner, Niall O'Leary around the country and internationally. She also maintains an active career as a choreographer, working on "James Joyce's The Dead," "Stones in His Pockets" and "King Stag."

The dance ensemble features 12 dancers, many of whom are Irish dance competition champions. Typically, the company brings eight to 10 dancers on tour for the holiday show.

Carr grew up in Toledo, Ohio, where she learned Irish dancing and later studied dance at Wesleyan University in Middletown, Conn., and earned a master of fine arts degree from New York University's Tisch School for the Arts.

Contact April Feagley at feaglea@juniata.edu or (814) 641-3131 for more information.