Kiplinger's Personal Finance Rates Juniata in Top 100 for Value.
(Posted December 16, 2015)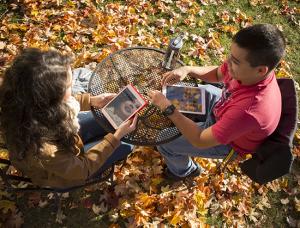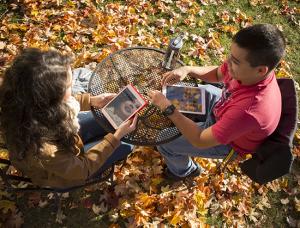 HUNTINGDON, Pa. -- Juniata College was rated 92nd this week in Kiplinger's Personal Finance ranking for "Best Values in Private Liberal Arts Colleges." The 2016 rankings mark the fifth time Juniata rated inclusion in the annual rankings by the renowned business publication.

The personal finance magazine poll ranks 100 liberal arts colleges and 100 private universities that "deliver a high quality education at an affordable price." According the the magazine's criteria, the colleges exemplify values sought after by students and parents, including small class sizes, superlative freshman retention rates and an exemplary four-year graduation rate.

The liberal arts college rankings will appear in the February 2016 issue of the magazine, on sale in January.

Juniata, which was ranked 79th last year, is ranked just above Coe College, in Cedar Rapids, Iowa, at 93rd, and Wheaton College, in Norton, Mass., at 94th. Ranked just above Juniata is Wabash College, in Crawfordsville, Ind., at 91st, and St. John's College, in Annapolis, Md., at 90th.

Juniata is one of 11 Pennsylvania colleges to be included on the liberal arts college rankings. Swarthmore College, in Swarthmore, Pa., was rated third in the poll. Other college rankings are: Haverford College, in Haverford, Pa., at 15th; Lafayette College, in Easton, Pa., at 36th; Bucknell University, in Lewisburg, Pa., at 40th; Franklin & Marshall College, in Lancaster, Pa., at 45th; Bryn Mawr College, in Bryn Mawr, Pa., at 46th; Dickinson College, in Carlisle, Pa., at 50th; Gettysburg College, in Gettysburg, Pa., at 52nd; Muhlenburg College, in Allentown, Pa., at 62nd; Juniata College at 92nd; and Washington & Jefferson College, in Washington, Pa., at 100th.


"If you're out in four years you're paying less and incurring less debt. Plus you're getting into the workforce faster."

Sandra Block, senior associate editor, Kiplinger's Personal Finance
Kiplinger's Personal Finance editors rank the institutions by measuring academic quality and affordability. The magazine lists the top 100 universities and liberal arts colleges in separate tables, using the Carnegie classification system, which organizes institutions based on the highest level and number of degrees offered.

Some of the factors measured by the magazine include: admission rate; percentage of students who return for sophomore year; student-faculty ratio; and four-year graduation rate. Criteria for cost includes: sticker prices; financial aid; and average student indebtedness at graduation.

"We were the first to assess colleges based on a combination of academic quality and affordability criteria, and we think our rankings continue to provide the best, most objective measure of value," says Janet Bodnar, editor of Kiplinger's Personal Finance magazine. "Families should start with the rankings and then make a list of potential schools based on their personal interests and definition of success."

Kiplinger's also for the first time collated a combined ranking of public and private institutions. Juniata ranked 178th in the combined poll, out of the 300 public and private colleges and universities ranked.

The combined rankings are dominated by private institutions because, "the average financial aid award is a little higher at private schools and so is the four-year graduation rate," says Kaitlin Pitsker, a Kiplinger's reporter who collated the data for the combined poll.
"If you're out in four years you're paying less and incurring less debt," says Sandra Block, senior associate editor. "Plus you're getting into the workforce faster."

Contact April Feagley at feaglea@juniata.edu or (814) 641-3131 for more information.