Camille Brown Dancers Create Drama Through Dance
(Posted January 18, 2016)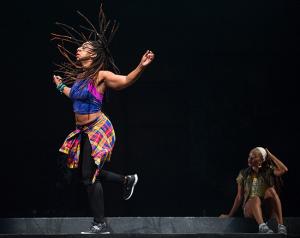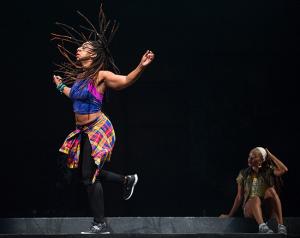 HUNTINGDON, Pa. -- "BLACK GIRL: Linguistic Play" presents at Juniata College, through dance and drama provided by Camille A. Brown & Dancers, a nuanced spectrum of black womanhood in a racially and politically charged world, at 7:30 p.m., Friday, Jan. 29, in Rosenberger Auditorium in the Halbritter Center for the Performing Arts on the Juniata campus.

For tickets and information about the Juniata Presents series, please call (814) 641-JTIX (5849). General admissions tickets for single performances are $20, except where otherwise noted. Single-show tickets for seniors over age 65 and children age 18 and under are $12. Juniata College students are admitted free with a student ID.

The creation and presentation of "BLACK GIRL: Linguistic Play" is supported by the National Endowment for the Arts and New England Foundation for the Arts through the National Dance Project. Support for the NDP is provided by the Doris Duke Charitable Foundation, the Andrew W. Mellon Foundation with support from the Community Connections Fund of the MetLife Foundation.

Fueled by original music by pianist Scott Patterson and bassist Tracy Wormworth, "BLACK GIRL" traces the complexity of carving out a self-defined identity as a black female. Choreographer Camille A. Brown uses the rhythmic mix of African-American dance styles to evoke and illustrate memories of emotional growth from childhood to maturity.

Brown, who developed the dance production "Mr. TOL E. RAncE" at Juniata in 2012 and premiered the piece as part of the college's 2013 Martin Luther King Convocation, will use a variety of dance styles to illuminate the play's storyline, including social dancing, double dutch, tap, steppin', Juba, ring shout and gestural.

"Ms. Brown explores black female identity by transporting her dancers and audience to the playground…She uses the games of childhood as a source of empowerment," wrote New York Times dance critic Gia Kourlas.

Brown based the production on the book "The Games Black Girls Play," by Kyra Gaunt, and says, "It shows the power of sisterhood and the fact that, as we mature black girls still play. It is remembering, conjuring and healing."

Trained originally as a musician, Brown formed her dance company in 2007 after a long career as a dancer and choreographer. She has performed with many dance companies, including the Alvin Ailey Dance Theater and Rennie Harris/Pure Movement, and has choreographed dances for Ailey companies, Philadanco, Urban Bush Women, August Wilson Dance Ensemble and Ballet Memphis.

She received the 2012 Miriam McGlone Emerging Choreographer Award, and is one of four choreographers chosen to be a fellow for Alvin Ailey's New Directions Choreography Lab. As an educator she has given countless workshops and works as an adjunct professor of dance at Long Island University and Barnard College.

Before founding her own company, Brown danced with the Ronald K. Brown/Evidence, A Dance Company from 2001 to 2007. She also has branched out to choreograph sequences for musical theatre, including a recent Broadway revival of "A Street Car Named Desire" and the off-Broadway production, "Soul Doctor."

Brown attended the Ailey School and earned a bachelor's degree from the University of North Carolina. She received early training at the Bernice Johnson's Cultural Arts Center and the Devore Dance Center.

"BLACK GIRL" was commissioned by DANCECleveland through a 2014 Joyce Award from the Joyce Foundation, The Clarice Smith Performing Arts Center at The University of Maryland, Juniata Presents and Juniata College. It was developed, in part, during a residency at Baryshnikov Arts Center, New York, NY awarded through the Princess Grace Foundation -- USA Works in Progress residency program; a creative residency at The Yard, The Flynn Center and the Wesleyan Center for the Arts; a technical residency at Juniata College in Huntington, Pa.; a residency at New York City Center; and a residency at Newcomb Dance Program, Tulane University Department of Theatre and Dance.
Contact April Feagley at feaglea@juniata.edu or (814) 641-3131 for more information.