Juniata College CFO Steps Aside to Pursue Strategic Role
(Posted February 9, 2016)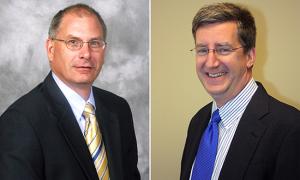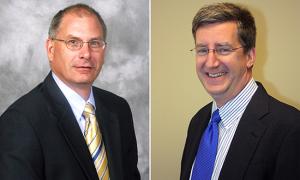 HUNTINGDON, Pa. -- Rob Yelnosky, vice president for finance and operations at Juniata College since 2007, is stepping aside from his current position in order to transition to a new role as the college's point-person on strategic initiatives, including managing the implementation and adoption of Juniata's strategic plan, with particular focus on experiential learning, community outreach, and institutional benchmarking..

Reporting to James A. Troha, president of Juniata, Yelnosky's title will be special assistant for strategic initiatives and he will assume the responsibilities of that position on Oct. 1, 2016. He will be replaced, effective August 1, 2016, by John Wilkin, currently the vice president of administration and business affairs at Heidelberg University, where Wilkin and Troha served together on the senior team. Between August 1, 2016 and October 1, 2016, Yelnosky and Wilkin will work together to ensure a smooth transition.

"The thing that convinced me to apply to Juniata was the college's strategic plan, it is one of the most impressive documents of its kind," says Wilkin. "It's a concise, well-defined, specific plan to improve the college and it shows a lot of thoughtfulness. Another factor in my decision was that Juniata is a healthy and substantial financial institution."

Yelnosky has been contemplating and planning a career change since 2014 and discussed with Troha a tentative plan to make the transition in December 2016.

"Rob has been helping Juniata emerge from the economic downturn of 2008 and it has become a stronger institution for his efforts," says Troha. "Rob has played a major role in the transformation of the campus in overseeing such projects as improvements to Knox Stadium, the renovation of Founders Hall, the construction of Nathan Hall, while completing other accomplishments too numerous to count. In his new role, he will focus on facilitating the successful implementation of Juniata's strategic plan, the process for which he co-chaired with biologist Jill Keeney, and be a flexible resource as we work together to advance the work of the college."


"Rob will focus on facilitating the successful implementation of Juniata's strategic plan and be a flexible resource as we work together to advance the work of the college."

James A. Troha, Juniata president
In light of Yelnosky's intention to transition to a new role, the College conducted a concentrated search that brought Wilkin to campus recently to meet the board of trustees and complete an intensive round of interviews with various faculty and administration.

John Wilkin has been vice president for administration and business affairs at Heidelberg University since April 2012. During his time at Heidelberg, he oversaw financial management, accounting, budgeting, business services, human resources, information technology and facilities. He also was a major contributor to the implementation of the university's strategic plan.

"Juniata has been presented with a unique opportunity to bring someone in who has the skills and experience to lead us forward as our next chief financial officer," says Yelnosky. "While our original plan was to target a December transition, this new timing ultimately will work out best in that by August, with the search for Juniata's vice president for student affairs also complete, we will have the full senior leadership team in place."

"I am very excited about the appointment of John Wilkin to this important senior leadership position," says Troha. "We are fortunate to have attracted such a quality person and professional. His intellect, experience, and depth of understanding of the current higher education environment will add tremendous value to our campus community."

Yelnosky's new duties will be based around "Courage to Act," the newly approved strategic plan completed and approved in April 2015. He will ensure that Juniata accomplishes each step in the plan and will take specific responsibility for many of the initiatives, many of which are reflective of his strengths and experiences, including community engagement, coordination of college land, as well as ventures that will assist faculty in enhancing the experiential elements of the student learning experience.

Yelnosky has been part of the Juniata College administration team since 2002, first overseeing the college's Technology Solutions Center. In 2004 he was named assistant to the president for administrative services where his focus was on revenue enhancement, cost control, and sustainability.

Yelnosky was named chief information officer for the college in 2006. In that role he oversaw the entire campus technology infrastructure as well as the web development department.

Yelnosky graduated from Juniata, earning a bachelor's degree in 1985 in management information systems.

Yelnosky started his business career in 1985 as a programmer/analyst for PPG Industries in Atlanta, Ga. and Pittsburgh, Pa. He switched jobs in 1987 to become a programmer for Ziff-Davis Publishing. He returned to Huntingdon, Pa. in 1988 when he accepted a job as systems analyst and manufacturing engineer at Owens Corning. Yelnosky soon rose within the company, as he became industrial relations supervisor for Owens Corning in Aiken, S.C. in 1995. He worked at a series of supervisory manufacturing positions for Owens Corning in Amarillo, Texas, Santa Clara, Calif., and Livermore, Calif. His last position with Owens Corning was as the Regional Manager for the Pacific Region.

Wilkin's major accomplishments during his tenure at Heidelberg included overseeing the implementation of a major information technology upgrade, creation of a new health benefits option that offered employees more control over their coverage, revision of the university's budget process and refinancing of $18 million in long-term debt.

Wilkin began his career in higher education in 2005, starting as budget director for academic affairs at Columbia College Chicago. He was promoted to assistant vice president for budget management in 2008 and became associate vice president for budget management in 2010.

Wilkin's business and finance career began in 1986 when he was hired as a financial analyst at Motorola Inc. He stayed at the telecommunications company for almost 20 years, working his way up to positions as controller for various Motorola divisions and ending his time there as director of inbound intellectual property licensing in 2005.

He earned a bachelor's degree in economics in 1984 and went on to earn a master's degree in business administration in 1986, both from the University of Illinois at Urbana-Champaign. He also earned a master's degree in education and social policy in 2008 from Northwestern University, in Evanston, Ill.

Contact April Feagley at feaglea@juniata.edu or (814) 641-3131 for more information.