Seven Student Finalists Compete for Bailey Oratorical Prizes
(Posted February 24, 2016)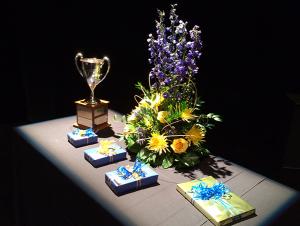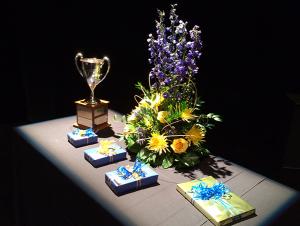 HUNTINGDON, Pa. -- Seven Juniata College students will compete in the hope their oratory is soaring enough to convince listeners that Juniata students and employees have the courage to change or adapt how the college looks at higher education at the annual John M. and Thomas F. Bailey Oratorical Contest, to be held at 7:30 p.m., Tuesday, March 1, in the von Liebig Theatre in the Halbritter Center for the Performing Arts on the Juniata campus.

Admission is free and the event is open to the public.

The oratorical contest this year is inspired by Juniata's recently unveiled strategic plan, "Courage to Act: The Plan for Juniata": How can we summon the courage to act?"

A preliminary competition was held Saturday, Feb. 20, to narrow the field of 40 student participants. Seven finalists are judged and will take part in the final competition.

The seven finalists are seniors Connor Hunter-Kysor, of Huntingdon, Pa.; Shalen Perehinec, of Altoona, Pa.; juniors Xavier Cachon, of Bala Cynwyd, Pa., Casey Lapham, of Gaithersburg, Md.; Caleb Madder, of Towson, Md.; sophomore Julia McMurray, of Kensington, Md.; and freshman Liliane Pari Umuhoza, a freshman international student from Rwanda.


The oratorical contest this year is inspired by Juniata's recently unveiled strategic plan, "Courage to Act: The Plan for Juniata": How can we summon the courage to act?"
The judges for the preliminary competition were Bryan Aungst, a 2013 Juniata graduate and account manager at Martin Communications in Harrisburg, Pa.; Ellen Santa Maria, a 2012 Juniata graduate and adjunct instructor of speech communication at Northampton Community College; and Jade Wronowski, a 2013 Juniata graduate and administrative fellow at Penn State's Hershey Medical Center.

The three judges for the March 1 final will be:

--Jeffrey Bellomo, a certified elder law attorney from North Manchester Township, Pa., (near York). He was named a Rising Star for Pennsylvania's Super Lawyers in 2010 and has been named a Rising Star every year since. In 2011 he received his elder law certification from the National Elder Law Foundation. He has been admitted to the bar of the Supreme Court of Pennsylvania as well as the U.S. District Court for Pennsylvania's Middle District.
He earned a bachelor's degree at Juniata in political communication and went on to earn a law degree from the Widener University School of Law.

--Lori Harris is a coordinator for student discipline and peacemaking at an Afrocentric charter high school in Philadelphia, Pa., where she also develops and teaches elective courses in peace and conflict studies and social justice. Harris also helped create and implement the Pillars of Peace Program and the Philadelphia Community Youth Court at the high school.
She also earned a master's degree in restorative practices from the International Institute for Restorative Practices.

--Margaret Finucane is associate professor of communication at John Carroll University in Cleveland, Ohio. Her research interests focus on service-learning education and outcomes, as well as interpersonal communication. She earned a bachelor's degree from John Carroll University and went on to earn a master's degree in communication research from the University of Iowa. She earned her doctoral degree from Kent State University.

She has been on the faculty at the Tim Russert Department of Communication and Theatre Arts since 1998. In addition, she chairs the university's Vocation Coordinating Committee and was director of the university's Center for Service and Social Action from 2006 to 2014. At John Carroll, she co-founded the Arrupe Scholars Program, the We the People Service Program, the Poverty and Solidarity Summer Internship Program and the Leadership and Social Justice Learning Community.

The prize money for the Bailey Oratorical Contest totals $1,800. The first-place winner receives $1,000, second place receives $500, and third place receives $300.

The original Bailey Oratorical Award was established in 1910 by Letitia Fisher Bailey and the Honorable Thomas F. Bailey, who served as president judge of Huntingdon County from 1916 to 1936. The contest is named in honor of John M. Bailey, the father of Thomas Bailey, and a former Huntingdon County president judge.

The oratorical contest has a long tradition at Juniata College, as students from all areas of study can compete for the monetary prize. The original prize for the contest was $15 and $25. An enhanced endowment contribution by Judge Bailey's son-in-law Colonel Sedgley Thornbury, provides the contest's prize money. In addition, the name of the winner will be permanently inscribed on an antique loving cup presented to the college by Colonel Thornbury's son, Thomas Bailey Thornbury.

Contact April Feagley at feaglea@juniata.edu or (814) 641-3131 for more information.