Juniata Senior Finds Tweet Gig for State of the Union Speech
(Posted February 25, 2016)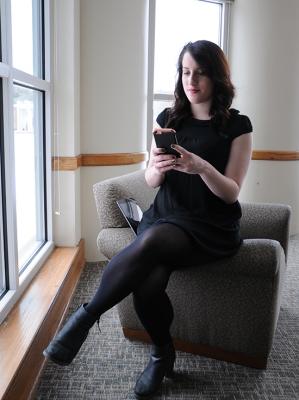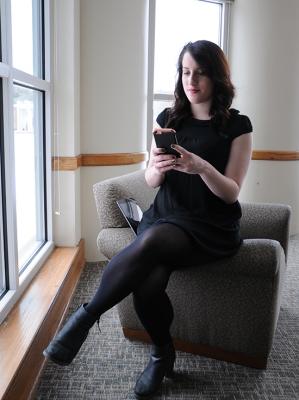 The next time you see a son, daughter, sister or brother so immersed in their phone or tablet that an 120-piece marching band could pass by without them looking up, don't immediately start to wag a finger or dust off advice that could be distilled to, "Get a life." That kind of concentration can get you to the White House.

Grace Ensminger '16, of Medford Lakes, N.J., was sitting at home during winter break going through her Twitter feed (a running list of people and media you "follow" and read about, for those who still resist the pull of social media) when an opportunity arose. The White House Twitter feed had posted an application asking people to "flood the zone" of social media during the Jan. 12 State of the Union Address.

"I sort of lucked out, I just happened to be on Twitter at the right time," she says.

She dashed off an application and a week before the event, she found out she was one of about 100 people asked to cover the address. She had to pay her way to Washington, D.C., but her dad had enough travel points to get a room at the historic Willard Hotel for free. On the night of the event she found herself sitting in plush, comfy chairs in a room in the Eisenhower Executive Building surrounded by technology. On one side was a videographer for National Public Radio, and the other tweeter was a kindergarten teacher. In front of her was a blogger from an online fashion website.

"I ended up retweeting a lot of things because if I tried to write my own tweets I found that I'd miss what President Obama was talking about," she says. "I retweeted a tweet by President Troha."


"Joe Biden is my idol. I almost cried I was so excited."

Grace Ensminger
Although her experience has not energized her to pursue a political career, she is aiming to pursue jobs centered around social media, probably in the entertainment industry. That said, her brush with political reporting did result in one life-changing event. Vice President Joe Biden stopped by before the State of the Union to give the room a pep talk.

"Joe Biden is my idol," she says. I almost cried I was so excited."

Contact April Feagley at feaglea@juniata.edu or (814) 641-3131 for more information.