Punisher to Painter: Portraiture Pays for Juniata Athlete
(Posted February 25, 2016)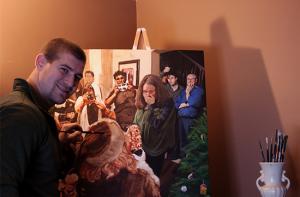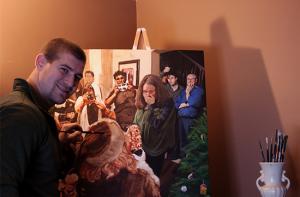 Jonah Plymire '16, of York, Pa., spent four years leveling punishing runners as an outside linebacker on the Juniata football team, but now the former Eagle is soaring as a portrait painter, just a few months after the budding artist finished his academic career a semester early.

The former defensive player and punter studied studio/fine arts and educational studies at Juniata and is currently enrolled in an art education certification program at Millersville University. In between studying, he has had the time to jump on opportunities to paint with the same quickness he used to display on the football field.

His first commission came at Juniata when teammate Clay Reichart '17 asked Plymire to reate a work honoring the football coaching career of Bill Reichart, Clay's father and the head football coach for Hanover High School. "Clay had always liked my work and wanted to commemorate his dad's successful coaching career.

Jonah prepped the canvas and drew the image, which depicts Coach Reichart on the sidelines wearing a headset, onto the canvas while he was at Juniata. He took it home to paint and the final portrait was delivered on Christmas Eve.

"I'd like to be an art teacher and football coach someday," Plymire says. "Those two careers are not commonly found together, but I have discovered may ways to keep them in harmony."


"I'd like to be an art teacher and football coach someday."

Jonah Plymire, Juniata senior
One way to to channel his inner Picasso-Parcells is to keep painting commissions on the side. He has several new projects lined up. One is a painting for his teammate Frank Marin '16, of Whitestone, N.Y., and the other is a series commisssioned by Ron Johnson, a former Philadelphia Eagle defensive lineman, who saw Plymire's "Concussion Series" on Jonah's Facebook page and commissioned two paintings.


Contact April Feagley at feaglea@juniata.edu or (814) 641-3131 for more information.